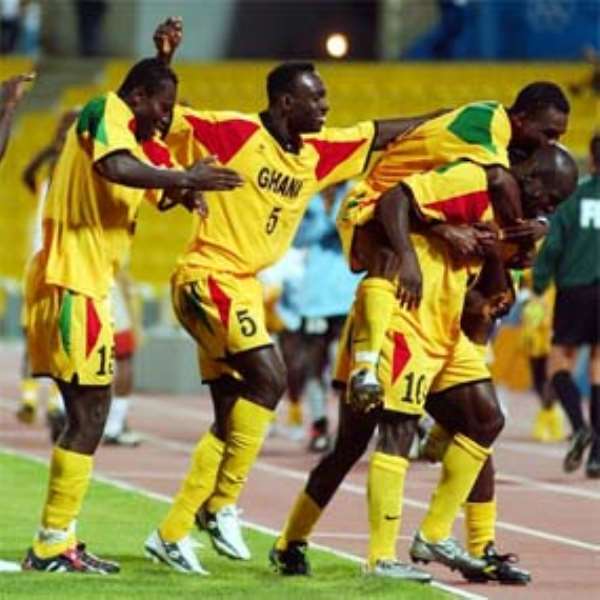 The spotlight again falls on gifted midfielder Stephen Appiah as Ghana go into their final group match against Japan knowing a draw would be enough to seal a place in the last eight. Appiah has scored in both his side's fixtures so far, including an early contender for Goal of the Tournament against Italy, and is determined to lead his country to their first Olympic medal since a bronze at the 1992 Games in Barcelona.
The Juventus star's breathtaking range of passing and game-reading skills could prove pivotal against the Japanese, who lie bottom of the standings with no points and are already out of the running.
The current Ghanaian crop shows striking similarities to the side of the early Nineties, when the Africans first left their mark on the world game. Ghana favour a powerful, attack-minded approach and feature no less than five strikers in their starting line-up. Against Italy, coach Mariano Barreto's men tossed away a 2-0 lead, but even in that first group match their potential was patently obvious. Portuguese coach Barreto, despite his dismay at failing to secure the three points, declared himself satisfied with the overall performance.
Ghana could be considered unlucky against Italy, but Barreto admitted it was a different story against Paraguay when his men came from a goal down to win 2-1. "We were unfortunate against Italy, but we had our share of luck against the South Americans. We never gave up though, and battled to the end." Substitutes played a key role in the outcome of that game: "Sometimes you get lucky, sometimes you don't," Barreto confessed. The coach is poised to shuffle the pack again for the meeting with Japan, as in-form defender John Mensah is suspended after collecting two bookings.
Barreto reckons mental strength is his team's only major weakness. "Against Paraguay, we couldn't cope with the pressure to win until we'd conceded a goal, but after that we played the way I want us to."
All that remains for Japan, eliminated after back-to-back defeats against Paraguay (4-3) and Italy (3-2), is to garner experience on the international stage with an eye on the 2006 FIFA World Cup Germany™.
Coach Masakuni Yamamoto admitted his disappointment at packing his bags for home, but turned his attention to the future. "We came here to learn, and I think we've done pretty well in our two games so far. My compliments to the players for their efforts."
The Japanese look strong in midfield and up front but are in need of improvement at the back. The rearguard was unable to cope with the pacy South Americans and South Europeans, typified by the ease with which Italy's Alberto Gilardino strode forward to net his side's second. Nonetheless, the Japanese will be looking to sign off with a win and are sure to provide tough opposition for Ghana.