2015 McDan Tennis Open: Day 2 scores and preview of Wednesday's action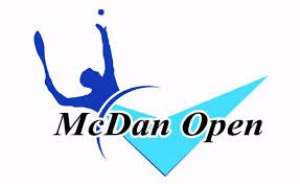 It took just two days of the 2015 McDan Open to get one of the best moments of the year.
While top seeds were steamrolling their opponents at the Accra Sports Stadium Tennis Court,12 year old Naa Mckorley was quietly going toe-to-toe with Amelia Dodoo and the pre-teen won 6-1, 6-1.
Let's take a closer look at the youngster's unforgettable performance, as well as the rest of the thrilling action from the Accra Sports Stadium Tennis Court .
2015 McDan Open: Day 2 Scores
Women's Singles
1. Francisca Nyarko defeats Stella Essilfie 6-0, 6-1
2. Annett Cruickshank defeats Gifty Ahenful 6-0, 6-0
3. Faustina Tagoe defeats Pearl Mensah 6-1, 6-1
4. Kate Coleman defeats Sheila Essilfie 6-0, 5-0 (R)
5. Naa Mckorley defeats Amelia Dodoo 6-1, 6-1
6. Grace Tomegah defeats Natasha Yalley 6-1,6-1
7. Abena Oti-Akenteng defeats Portia Allotey 6-0, 6-0
8. Miriam Blepo defeats Alabo Farida Dzifa W/O
Men Singles
1. Wisdom defeats Ahmed Quartey 6 3, 2 0 R
2. Bernard Dugbah defeats David Bona 6 0, 1 0 R
3. Raymond Hayford defeats Emmanuel Nyan Plange 6 2, 6 3
4. Franklin Effah defeats Albert Nti 7 6(6), 6 1
5. Jonathan Quaye defeats Gabriel Atteh 4 6, 7 5, 6 3
6. Bernard Armah defeats Isaac Titriku 6 4 4
7. Charles Abugbila defeats Felix Hammond 4 6, 6 1, 6 2
8. George Darko defeats Benjamin Palm 6 3, 6 1
Day 2 Recap
Headlining the prime-time session was a pair of players with 4 national ranking titles under their belts. George Darko handled Benjamin Palm in a two straight sets win,
With defending Champion Jeff Bagerbaseh having ease over the last couple of tournaments, Jeff bagerbaseh entered as many pundits' favorite. After putting up exciting performance at the opening ceremony, there's no reason to alter that view.
Francisca Nyarko was just as successful, beating Stella Essilfie in just 55 minutes. The rest of the favorites on the women's side faired much better..
In addition to Francisca, No.2 Annett Cruickshank and Former No.1 Kate Coleman each won in straight sets, looking extremely dominant in the process.
Felix Hammond would have to upset Ghana's No.15 Charles Abugbila No. 7 for that happen, but it's safe to say the Winneba baseb just earned a lot more fans for his opener.
Day 3 preview
Wednesday's order of play with all the Top seeds leading the way – No. 3 Wisdom Na-AdjragoNo1 George Darko and No. 2 Jeff Bagerbaseh,
Wisdom will be playing Bernard Dugbah at 9am.Followed by Kwabena Ofosu Bamfo against Charles Asomani
Defending Champion and No.2 seed Jeff Bagerbaseh will play Benjamin Ababio during the early session at the Accra Sport Stadium Tennis Court.No.1 seed George Darko will face Eric Tetteh Nartey.
Other matches coming up on court 2: Francis Akpese will play Flankline Effah, Raymond Hayford will battles it out against Jonathan Quaye. Later in the day Charles Abuglila vs Benjamin Fumi and lastly Bernard Armah will play against Daniel Anum Quartey
In the Women's Singles: No.1 seed Francisca Nyarko will face 12 years old Naa Mckorley. Miriam Blepo who had easy walk over against Alabo Farida Dzifa will host former No.1 seed Kate Coleman.
In the afternoon Grace Tormegah will face Faustina Tagoe. Last game in the Women's Singles No.3 seed Annett Cruickshank will play Abena Oti Akenteng
MATCHES TO WATCH - MEN
[3] Wisdom Na-Adjrago vs. Bernard Dugbah
Both players were first runner-up doubles partners in the 1st National Ranking Tour. Wisdom who is right hand player comes out and gives everything he has without fanfare without flash; In Bernard who is left handed player always remains at the base line of the court picking all balls. The first time the two are meeting in Open Championship. Tomorrow at 9: 00 GMT on the center court will decide which of the two moves to the third round.
Wisdom beat Ahmed Quartey on Monday to advance to the second round. While Dugbah outshined David Bona to reach the second round
Wisdom reached the semifinals of the 2014 McDan, before falling to Jeff Bagerbaseh.
Story by Ghana/GTF/Gabriel Amoakoh