Today in history: Fan ends Alex Nyarko's Everton career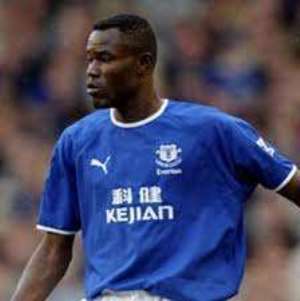 Alex Nyarko announced his retirement from football on Saturday 21 April, 2001 after receiving personal abuse from a fan during his side's 4-1 defeat at Arsenal.
Nyarko who was signed 4.5 million pounds (7.2 million dollar) from French club Lens in the summer of 2000 pleaded to be substituted in the 70th minute at Highbury after an Everton supporter ran onto the pitch and offered to swap shirts.
The ex-Ghanaian international,28-year-old at the time who asked to be substituted immediately after the incident and was replaced by Israeli Idan Tal, told the Press Association: "This is the fourth or fifth time this has happened and that's it. I'm finished with football.
"This man has done the same thing before...
"So today I have decided I am quitting football. I can't live my life like this. I can live without football and that is what I am going to do.
"I came to this club when I would have been better off joining another one but I have had no problems with anybody at Everton and I have full respect for everyone. I have been happy with the way I have played and I don't upset anybody, but this is too much."
Nyarko was making only his 20th start for Everton after an injury-interrupted season.
The midfielder had also played for Romanian club, Sportul Studente sc, FC Basel of Switzerland and Germany's Karlsruhe.
He was in the Lens team which beat Arsenal 1-0 at Wembley in the Champions League two seasons ago and also the side the Gunners beat in last season's UEFA Cup semifinal.
Everton manager Walter Smith made it clear how he felt about Nyarko's decision.
"You'll have to give me some time to think about whether he will be playing for us in our next game - about five seconds should do it," said Smith.
"It is obviously not a good example to set. You expect players to have a certain amount of mental strength when they are criticized but I've never known something like this to happen before and I presume no other manager has either."
Really Nyarko never recovered from this situation as his football career retrogressed. He went on loan to Monaco and PSG, but couldn't succeed, so he was finally transferred to  I.K Start by Everton.
Although he rescinded his decision to quit football, he struggled for the rest of his football career