Ghana Karate Association Selects Team For All Africa Games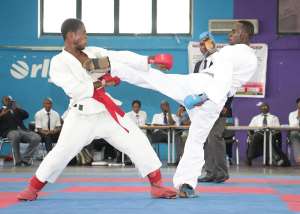 The Ghana Karate-Do Association (GKA) in conjunction with the National Sports Authority (SPA) last weekend held the 2015 National Karate Championships to select a senior Team to represent Ghana at the All Africa Games in September 2015.
Kwabena Afriyie Poku, Sensei, GKATechnical Director said: "The listed 'karatekas' will be invited to start non-residential training shortly. Out of this a core team will be finally selected to represent Ghana at All Africa Game.
The championships were in two sessions, eliminations and final sessions respectively in the event/weight categories: Female Individual Kata, Female Individual Kumite.
Open-Weight Category; Male Individual Kata Male and Male Individual Kumite
-60kg, -67kg, -75kg, -84kg, and + 84kg
The different event/weight categories and list of winners were: Female Kata 1st Gold- Humu Yussif.
Male Kata: Noah Teyvi (Gold), Edmund Amoako Asante (Silver), Issah Osman (Bronze), Adnan Basha (Bronze).
Female Kumite (Open- Weight): Nardia Sackey (Gold), Humu Yussif (Silver).
Male Kumite 60Kg: Dickson Acolatse (Gold), David Dong (Silver), Ishark Ibrahim (Bronze), Richard Bangya (Bronze).
Male Kumite 67Kg: Bright Tetteh (Gold), Edmund Amoako Asante (Silver), Kingsford Dabo (Bronze), Nurudeen Abubakari (Bronze)
Male Kumite 75kg: Patrick Amakye (Gold),:Emmanuel Agyei (Silver), Nasiru Alhassan (Bronze), Adnan Basha (Bronze).
Male Kumite 84kg: Muniru Salifu (Gold), John Ansah (Silver), Ernest Agooji (Bronze), John Sackey (Bronze).
Male Kumite +84kg:
Samuel Obeng (Gold), Isaac Acheampong ((Silver), Felix Annan (Bronze), Kojo Saint Omer (Bronze).
The event which was held at the Sports Hall of the National Sports Authority, Accra was jointly sponsored by Margins Group of Companies and Reha Medicals.
Dignitaries in attendance to grace the occasion unclude, Mr. Melvin Brown (President of GKA), Mr. Osei Agyim (Director of Sports at the Ministry of Sports), who represented the Minster of Sports. GKA board members present were Mr. Francis Fuster, Mr. Duke Banson, Mr. Donald Jwirah as well as Mr. Michael Boateng a veteran 'Karateka and Mr. Kofi Anokye of Royal Bank.