ACL: Kotoko boycott media but begin conciliatory measures as Ainooson weeps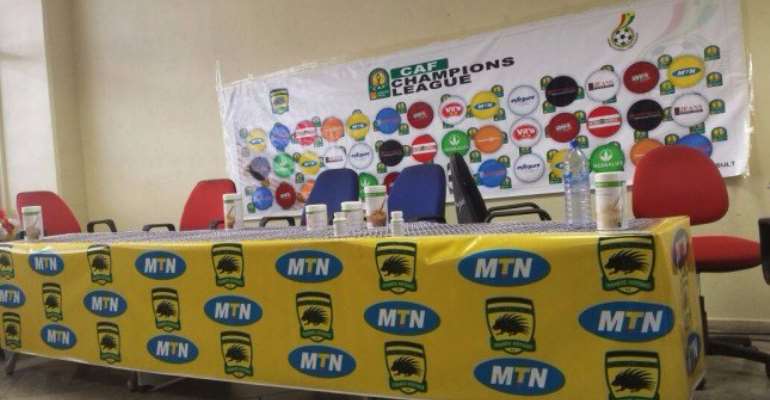 The first sign of trouble came right after the game when Kotoko failed to attend the mandatory post-match presser following their defeat.
For the second time in as many meetings with Algerian opposition, Kotoko were beaten on aggregate - this time by El Eulma. The North Africans won 2-1 in Kumasi on Sunday.
"Coach Duncan was advised by the security apparatus at the stadium not to appear for the post-match press conference," explained Kwaku Ahenkorah, Communications Manager for the club explained on one social media platform Sunday night.
The security fears became more apparent when armored vehicles escorted players out of the stadium, bearing in mind the wrath of fans after such disappointments.
The spokesman however allayed fears that the club will be punished for tis decision. 
"In Caf champions league, organising post-match press conferences are not forced on home clubs and the match commissioner did not mince words about it during the technical meeting.
But I had plans to organize one after the match irrespective of the scoreline; only to be told after the match that the safety of our players and technical team was at risk." 
Speechless Abeiku
Kotoko defender Abeiku Ainooson, meanwhile, is struggling for words to describe the pain of crashing out of the African Champions League.
"I do not understand what happened yesterday and I have not even tried to think through it," Ainooson said.
With this being the third straight time the Reds have failed to make the group stages of the Caf Champions league, the approach of the entire team will be subjected to serious scrutiny.
"I do not know what hit us at the moment," the defender told Ghanasoccernet.
The reactions continue, with the club offering a swift apology for the shambles on Monday.
"It is unacceptable and painful that, when the supporters showed so much interest, the team could not reciprocate that with victory and qualification to the next stage of the competition," a statement from the club says.
It goes on: "We deem it appropriate to console our disappointed supporters and Ghanaians. We let them down. Management will not make any excuses. We accept the painful defeat while looking for avenues to correct the wrongs in the team with the hope of writing a different script next time."
Expected statements from recently-appointed boss David Duncan are eagerly awaited, as well as from the victorious Eulma side.
Line-ups:
Kotoko: Ofori Antwi – Christopher Bonney, Amos Frimpong, Abeiku Ainooson, Eric Donkor - Owusu Jackson, Michael Akuffo/68' Kojo Poku, Richard Mpong/54' Frank Sarfo-Gyamfi, Emmanuel Asante/46' Dauda Mohammed - Obed Owusu, Ahmed Toure
Eulma: Mohamed Ousserir – Khaled Bouzama/11' Mokhtar Belkhiter, Adel Naomane, Ismael Beneltayeb, Abelmalek Abbes/77' Nacer Hammami, Walid Derrardja, Abednego Azougha Tembeng, Adel Maiza, Ibrahim Chenihi/84' Ahmed Kara, Mohammed Belhadi, Fares Hemitti
Follow Gary on Twitter: @garyalsmith
Story by Ghana/Joy Sports/Gary Al-Smith