Blessed: Donsah excited with Black Satellites call up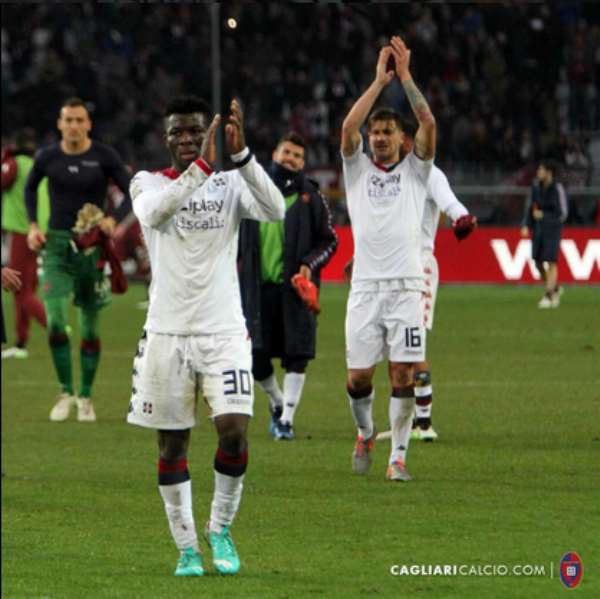 Godfred Donsah is up in arms ready to do battle for his country at the 2015 FIFA World U-20 championship in New Zealand from May 30 to June 20.
The Italy based wonder kid was one of several new names listed in Coach Sellas Tetteh's provisional 35-man Black Satellites squad submitted to FIFA earlier this week as the countdown to the 3-week global fiesta edges ever closer.
Ghana which finished third at the Africa tournament which concluded in Senegal last month, face the challenge of serial winners, Argentina as well as Panama and Austria in Group B at the tournament.
And Donsah who has written a lot of headlines with his talent and delivery for Cagliari in the Italian top league this term has expressed delight to be called up for his country for the first time at any level.
"On the U-20 call up, I feel blessed. It's a great honour and privilege to play for your country and to be recognised at this young age gives me a lot of confidence and pride," Donsah told Allsports.com.gh exclusively.
Donsah has been linked to a host of Europe's top clubs on the back of his 17 appearances and two goals in Serie A this season, among them Manchester City, Arsenal, Liverpool and Tottenham Hotspurs all sending scouts to watch the 18 year old wonder kid in league action.
Now he has the opportunity to impress with his country's youth team on the international stage.
Football is my business!!! http://t.co/68Evaz02zA — Godfred Donsah (@GodfredDonsah) 2013-07-22 14:22:09.0