Enyeama: I'll leave soon so Nigeria must get my replacement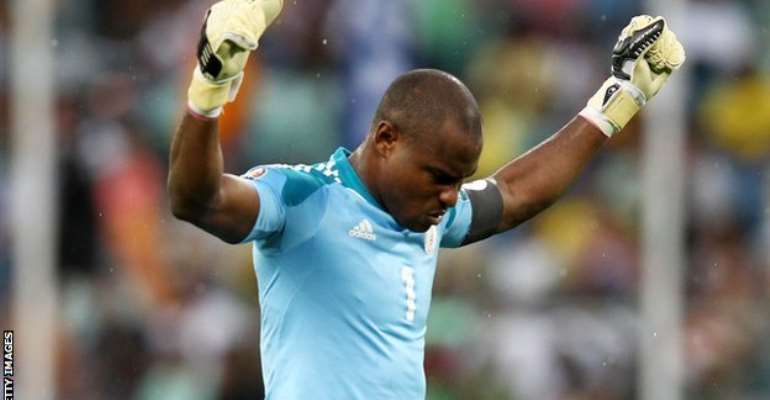 Following his declaration on Tuesday that he is ready to become Nigeria's number one goalkeeper, Super Eagles fringe goalkeeper Daniel Akpeyi may have received a boost as captain and current first choice 'keeper, Vincent Enyeama has said the country must start preparing someone to take over from him.
Enyeama, who featured in his 100th game for Nigeria in a friendly against Uganda last Wednesday, say he'd love to keep on playing for as long as possible, but admits he'll have to give way at some point.
"I tell you the truth, will love to stay as long as possible but at some you need to let it go. You need to let others take over," he told  thenff.com .
"I really wish I can go on forever but I can't so Nigeria should start grooming someone to take over from me, and that is what I wish.
"But for now I don't know how long I can go so there has to be someone to take over.
The 32-year old has been Nigeria's first choice goalkeeper since making his debut for the Super Eagles in a friendly against Kenya in 2002.
He was temporarily displaced by Austin Ejide in 2008 under Berti Vogts, but regained his position soon after the German coach left.
Enyeama is unarguably one of the best goalkeepers Nigeria has ever produced and is often seen in the class of Emmanuel Okala and Peter Rufai, two other great goalkeepers the country has produced.