FEATURE: Three tips for the Satellites ahead of the FIFA U20 World Cup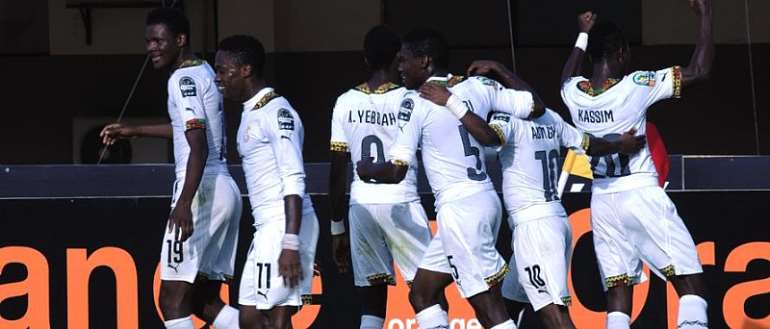 By Nii Ayitey Tetteh
Kun faya Kun! That saying echoed in my mind as I watched Ghana's Black Satellites engage Nigeria's Flying Eagles at the semi-final stage of the African Youth Championship in Senegal. I understand in strictly Quran parlance it means "Be and it is" but then, it is used loosely to mean "what will be, will be" in everyday language. Yes, I was resigned to any possible outcome because the Satellites' performance had plummeted after starting the tourney with a bang. So, when Nigeria went a goal up, Sellas Tetteh's famous saying jumped into head. Long story short, the Satellites fell 2-0 to Nigeria and had to settle for Bronze after beating Mali 3-1 in the third place game. The semifinal berth was however adequate as it ensured qualification to the U-20 World Cup finals to be played in New Zealand.
That tournament would provide another opportunity for Sellas and his troops to correct the mistakes made in Senegal, in the hope that, this class of 2015 can emulate either the class of 2009 or 2013 who won Gold and Bronze respectively. To win that war, Sellas Tetteh may need a new mantra, because the present team needs a lot of work that cannot be left to chance or faith. For me there are three major areas that need to improve ahead of the World Championship from May to June 2015.
Stick with Baah
Sellas Tetteh may have had loads of experience at the U-20 level but his decision to drop Mutawakilu Seidu who kept goal in the first three games may have cost Ghana a ticket to the final. Admittedly, Seidu who plays for Hearts of Oak may have fluffed his lines and looked out of sorts, but going into a big game against a bitter rival was definitely not the occasion to make that big call. Seidu's replacement, Berekum Chelsea's Michael Sai, didn't fare any better and was a bundle of nerves all evening. But that was one bad game and you cannot hit Sai too hard. Sellas continued with his tinkering by giving third choice goalie, Heart of Lions' Kwame Baah an opportunity to stake a claim in the final game versus Mali. Well, he staked and he claimed. Though he wasn't spectacular, Baah commanded his area with loads of confidence, perhaps a tad too much. The only blot on Baah's game was the goal he conceded; a lob over his head when he unnecessarily rushed out of his area to defend a ball that his defenders could have covered. But Baah confidently redeemed himself when he later saved a penalty to deny the Malians a second goal. Baah may have saved Sellas' blushes but his performance would not erase the fact that there is a confidence crisis in the goalkeeping department. What Sellas needs to do going forward is stick with Baah and give him confidence required to perform. Sellas can also look abroad and invite Lawrence Ati Zigi, who plays for FC Liefering in Austria, to give the current goalies more competition before the World Cup starts on May 30.
Find a water carrier
The Black Satellites teams that claimed Gold and Bronze at the 2009 and 2013 editions of the World Youth Championships had players who were prepared to do the dirty work; shield the defense and clean up after the attackers. In 2009 it was Rabiu Mohammed who was the enforcer while Emmanuel Ayemang-Badu advanced. In 2013 it was Seidu Salifu who ensured the screws in midfield were tight while Clifford Aboagye created.
Within the present team however, the defensive midfield duties, shared between Michael Otoo and Kofi Yeboah have been suspect. Take nothing away from those two players; they are technically good but aren't as physically imposing as their predecessors. It is the reason why Clifford Aboagye an alumnus from the class of 2013 could not exert himself and create the way he was expected to, since the freedom and room required, weren't adequately provided by the defensive midfielders. If the present team would compete for honours at the World Cup, the team would need a bit more of grit and brawn in the heart of midfield. Do I hear you mention the name of new sensation Godfred Donsah of Cagliari? His inclusion should offer the team the solidity needed in the middle of the park and release Clifford Aboagye and Yaw Yeboah to create lots of goal scoring chances.
Bolster the attack
This Satellites team looked good when building attacks; the technique and the flair were visible in the boots of Prosper Kasim, Yaw Yeboah and Benjamin Tetteh, but that is where it ended. The finish was severely lacking in the final third of the field. So, while the Satellites played "Keche" football, the lack of killer instinct, the indecisiveness of whether to shoot or go for placement undid the team's march towards the trophy. Benjamin Tetteh who led the line had all the attributes of a modern striker; good height, quick feet, and great technique but his decision making was questionable. Going into the World Championship, Benjamin's efforts need to be complemented. Past squads have had the likes of Dominic Adiyiah, Rasford Osei, and Ebenezer Assifuah to supply goals. Sellas Tetteh has a pool of good attacking midfielders and strikers to pick from. He may want to look at Divine Naah of Dutch side NAC Breda and Emmanuel Boateng of Portuguese side Rio Ave to give the attack a little more verve.
Sellas Tetteh clearly has his work cut out and this time round it would take more than a philosophical saying to reach the medal zone; it would require sweat, blood and tears; the kind required of soldiers back in the day. Is there a mantra for that effort too? … Anybody?
[email protected]
Follow me on twitter @niithesoccerguy