Ghana striker Jordan Ayew named among the 10 Most Intriguing Ligue 1 Players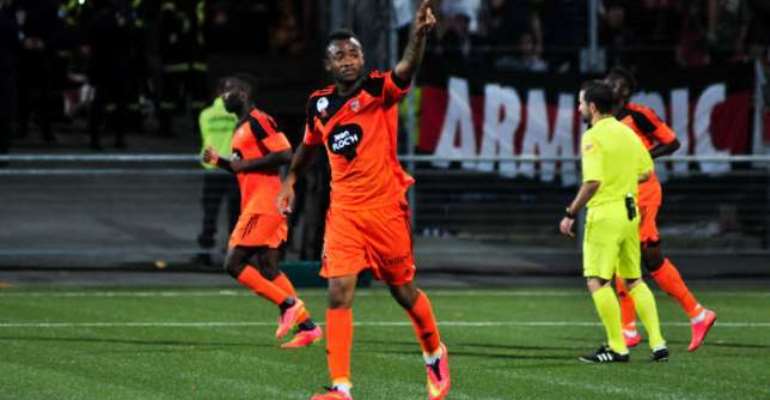 It's probably fair to say this Ligue 1 season isn't quite going as expected, with defending champions Paris Saint-Germain currently behind both Lyon and Marseille?in the table and a number of players coming from seemingly nowhere to stand out and overshadow those star names currently plying their trade?in France's top flight.
While PSG?had started the season as the overwhelming favourites for the title and the Parisians have their work cut out between now and the end of the season to see off the very real threat of Lyon and Marseille. With PSG's high-profile players struggling at times this season, there have been some other players in Ligue 1 who have been making a name for themselves this year, and many of those might not be faces you yet recognise.
So let's have a look at the 10 most intriguing players to have come out of the first half of the Ligue?1 season.
Alexandre Lacazette (Olympique Lyonnais)
Lyon striker Alexandre Lacazette might not be the surprise package of the season but he has certainly gained the interest of a lot of clubs who might not have been that aware of him before. Last season Lacazette scored 15 goals and proved he has the ability to be one of the most prolific strikers in the league. But with 21?league goals to his name in 21 league appearances, many feel the Frenchman has everything it takes to hack it in one of European football's top leagues.
The 23-year-old has played a key role in Lyon finding themselves in with a real chance of winning their first Ligue 1 title since 2008, although the striker was recently sidelined for four weeks with injury and the club will be hoping their prolific hitman can get return to the sort of form he was in before his injury. A number of Premier League clubs,  including Liverpool , have been? tipped by punters  to be in the hunt to sign the striker?and that list will only grow if Lacazette can continue his incredible form from the first half of the season between now and the summer. The intriguing thing will then be whether the striker can repeat his goal-scoring feats from Ligue 1 in the Champions League, whether it's with Lyon or someone else.
Divock Origi (Lille OSC)
Divock Origi may be one of the most intriguing players in Ligue 1 this season, with his on-off saga regarding whether or not the striker would finish this campaign as a Lille player. The Belgium international's performances in last summer's World Cup in Brazil saw him  earn a big-money move to the Premier League with Liverpool , only to be loaned back out to Lille for the 2014/15 season. Despite only scoring a handful of goals this season, Origi had been linked with making a return to Liverpool six months earlier than planned, and the Premier League side were? exploring the opportunity to cut short the 19-year old's loan spell before the end of the January transfer window .
Much of Liverpool's intention to bring in Origi six months earlier is more down to their own striker problems. While Origi has only scored three Ligue 1 goals this season, the hope will be that his struggles this campaign will help him grow over the next few years at Anfield. But Lille desperately need goals at the moment and could really do with Origi ending his time in France with a goalscoring run between now and the summer.
Jordan?Ayew?(FC Lorient)
Jordan Ayew?has been intriguing this season for a lot of football fans due to his inconsistent performances;  a world beater one day and a liability the next , Ayew has frustrated Lorient fans as much as he has delighted them this season. Following his summer switch from Marseille, Ayew had a slow start to life at Lorient before going on a very promising scoring run in between October and December. But despite weighing in with six Ligue 1 goals this season, Ayew's?performances have left him open to criticism, with his tendency to need a boat-load of chances before scoring leading some critics to claim he isn't good enough to lead the line.
Benjamin Jeannot stepped up when Ayew left for the Africa Cup of Nations, but with Lorient?facing the very real prospect of falling into a relegation battle this season, they are going to need both striker to combine and get the best out of the Ghananian between now and the summer to make sure they don't end up slipping into a dog-fight.
Jordan Veretout (FC Nantes)
Young midfielder Jordan Veretout has stood out in a fairly average Nantes team this year and it's unsurprising to see the 21-year-old being linked with a number of  European football's biggest clubs . Despite his young age, Veretout has already racked up over 115 appearances for Nantes since making his debut in 2011, playing an important role in the club's return to Ligue 1.
Capable of playing anywhere in midfield, Veretout has played a lot of his career as a defensive midfielder, although it's looking more and more likely that the youngster will eventually establish himself in the number 10 position. Veretout has been a regular member of France's youth levels, with the highlight coming in 2013 when the midfielder played a key role in France  winning the U-20 World Cup in Turkey . With a call-up to the France squad now seemingly inevitable, Nantes will be hoping Veretout is still their player by the time the midfielder makes his international.
Yannick Ferreira?Carrasco (AS Monaco)
Following the departures of Radamel Falcao, James Rodriguez and  Emmanuel Riviere  in the summer, Monaco desperately needed their younger players to step up to the plate this season and Yannick Ferreira?Carrasco was definitely one of those. Monaco's early season form saw questions marks over where the club would finish, but spearheaded by their Belgian winger, Monaco have turned the season around.
While the 21-year-old hasn't scored the same number of goals as those high-profile departures, Ferreira Carrasco?has done enough to show that he is one of the  most exciting  young forwards in Ligue 1 and a player Monaco need to hold on to if they are going to re-establish themselves as one of French football's powerhouses. With clubs from around Europe beginning to take notice of the Belgium U-21 star, Monaco will know that securing Champions League football could be crucial to their chances of avoiding losing another key player.
Nabil?Fekir (Olympique Lyonnais)
Lyon have been spoilt for choice when it comes to forwards this season and Nabil Fekir?has been one of those players who has come from nowhere to establish himself as one of the most intriguing players in Ligue1. In just his second year?in the Lyon first team,  Fekir has scored eight goals  in the league this season and formed a formidable attacking duo alongside?Alexandre?Lacazette. He has played a huge role in the club finding themselves top of the league and looking at winning their first Ligue 1 title since the 2007/08 season. The 21-year-old might be one of the most skilful players in this Lyon team but he's also one of the hardest workers, covering a huge amount of ground during a match and weighing in with more than his fair share of assists. But with Lacazette?high on the list of a lot of European football's biggest clubs, it might be that Fekir is allowed to move on in order to keep his strike partner at the club beyond the summer.
Florian?Thauvin (Olympique de Marseille)
Few players in Ligue 1 blow as hot and cold as Marseille winger Florian Thauvin. The 21-year-old has been easily OM's most frustrating player at times this season, recently finding himself  coming in for?some stinging criticism?for his performances since the turn of the year . While Thauvin?might not have scored the amount of goals he should have done by this point, there are some positives for Marseille fans from the fact that youngster is finding himself in positions to get on the end of these opportunities, not to mention the amount of goals he has set up for his team-mates this season.
With OM now very much a part of this season's title race, they are going to need Thauvin to find some sort of consistency. Clearly one of the most naturally talented players in Marcelo Bielsa's squad, Marseille will know they have a game changer in their squad and a player who could have a big say in how this season's title race ends up.
Paul-Georges Ntep (Rennes)
After an exciting spell with Auxerre in Ligue 2,?Paul-Georges Ntep has wasted little time in showing what he is capable of during his short time with Rennes.  Since his January switch  last winter, Ntep has already scored 11 goals in all competitions for Rennes, including seven Ligue?1 goals which have helped the club find themselves in a very solid position in the table. With nine goals in 15 appearances for the Under-21 side,?France have long known they have a talent on their hands and the striker looks close to soon making the step up into the senior squad.
It remains to be seen whether he'll still be a Rennes player by that point, however, with both  Tottenham?Hotspur  and Arsenal reportedly set to launch bids for the striker in the summer. As it stands, though, Rennes will be hoping their in-form striker can help them secure a European place next season.
Maxime Gonalons (Olympique Lyonnais)
While much of the focus this season has been on Lyon's attacking players, the role of Maxime Gonalons?mustn't be underestimated. With Lacazette and Fekir?all producing the goods up front, it's been the work of Gonalons in the centre of the park that has given?these attacking players the freedom to score the goals that has put Lyon top of the league. At 25, the defensive midfielder may be older than the rest of the players on the list, but this season has been the year where Gonalons has really shown what he can do. After breaking into the France?squad?in 2011, this may well be the time where the Lyon player can really establish himself on the international stage and his performances for the league leaders this season hasn't gone unnoticed by the French management.
As with many of Lyon's in-form players, a number of European clubs have started sniffing around the midfielder and the Ligue 1 club will have their work cut out to hang onto Gonalons?as well as their other star players. Arsenal have made no secret over their need to sign a defensive midfielder and Arsene Wenger is? believed to have Gonalons on top of his list .?But if they have ambitions on winning their first league title since 2008, Lyon will need to keep their best players between now and the summer.
Jonas Martin (Montpellier HSC)
Not a name that instantly springs to mind, Jonas Martin has been a stand-out member of a very decent Montpellier side this season. The midfielder has been a consistent-if-unspectacular player over the past few seasons but this year Martin has really made the step up and made himself known with some impressive performances in Ligue 1.
He might not have scored the goals that some other names on this list have, but Martin's presence in this Montpellier side has been key in the club finding themselves sixth in the? Ligue 1 table ?and in a very strong position heading into the second half of the season. With four assists to his name, Martin has added an attacking side to his game this year and shown he could be a much better player than some thought. While it remains to be seen whether Martin will ever become a real world-class midfielder, the 24-year-old has more than proven his importance to Montpellier.