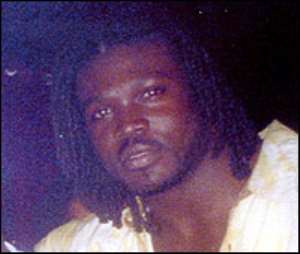 `He said somebody was after him. He told me to watch my back' Jealousy, not drugs, motive behind killing, victim's twin
Music promoter Farouk Sylvester Musah knew he was a marked man in the weeks before he was gunned down Sunday morning inside his white Hummer near the Esplanade, his twin brother says.
"He said somebody was after him," Prince Musah, 33, told reporters outside police headquarters yesterday. "He told me to watch my back."
Prince Musah said his brother became fearful for his life after somebody fired several shots into his empty vehicle as it was parked in the driveway of his Richmond Hill home about three weeks before his murder.
In a wide-ranging impromptu press conference, the victim's brother also said: There may have been at least two witnesses to the slaying, including one person watching from a nearby building who is too afraid to go to the police.
The motive behind the slaying was jealousy over the victim's success in the music promotion industry and may have had something to do with a recent reggae concert he had helped to organize.
The gunman and a second man may have driven off in a champagne-coloured Honda Civic, a model ranging anywhere from 2000 to 2004.
Prince Musah had been at headquarters talking to detectives, and was angry some media stories suggested his brother had been killed following a drug dispute.
He interrupted another news conference, yelling at reporters that his brother, a devout Muslim and father of three girls ranging in age from 16 months to 8, was being unfairly portrayed in the media as a drug dealer.
He said his brother was a "wealthy, successful" businessman, and his slaying "was not drug-related."
Earlier, police had told the media the slaying didn't appear to be gang- or drug-related.
The victim's brother also vowed he and other members of the Muslim community would find the killer, or killers, and make sure they were turned over to the police.
"I'm telling you guys out there. That's my twin brother. Whoever did this will pay for it," he said.
When told there could be at least one witness to the slaying, a police spokesperson appealed to the person to call homicide investigators.
"We're appealing to anybody who knows something to come forward and talk to us," Detective Sergeant Mark Saunders said last night.
The detective went on to say that in the early phases of the investigation there were "a billion" different angles behind the slaying, saying that detectives were "not excluding anything" in their probe.
Farouk Sylvester Musah, who also went by the name "Kool C," came to Canada from Ghana in 1992.
A person who knew him said he was involved in a business called Moonlight Entertainment, which co-sponsored the first Toronto International Reggae Festival, held at Lamport Stadium on June 27. He had been working on another concert when he was slain. His body was found slumped over the wheel of his vehicle, parked near Lower Sherbourne Ave. and the Esplanade.
One female friend of the victim told the Star in an interview Musah was "generous and loyal and kind" but also had a "serious side."
She said he went to high school in Canada after coming from Britain and, because of his size, played football.
He promoted rhythm and blues, hip-hop and would promote various clubs in Toronto and as far away as Windsor, she said.
She said his friends believe the murder was connected to the promotion business, as his brother suggested.
"People are saying, `Don't go to the funeral' ... people are nervous. He was such a commanding figure, it could not have been a case of mistaken identity," the friend said.