Hearts fan Aziz Futah wants to mobilize funds from fans to pay off majority shareholder Togbe Afede XIV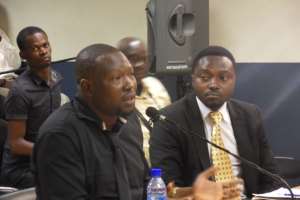 A leading Hearts of Oak fan Abdul Aziz Haruna Futah is ready to lead a movement which will see supporters of the club pay off current owner and board chairman Togbe Afede XIV.
In 2011, Hearts floated shares and it was Togbe Afede XIV's company Strategic African Securities (SAS) Group who met the minimum threshold required for a successful floatation
The resources invested qualified Hearts for listing on the Ghana Stock Exchange.
But Futah argues that the traditional ruler is running down the club and wants to mobilize funds from fans in order to pay him off.
"Our club Accra Hearts of Oak keep on coming down, nothing is happening and there is a huge gap between the fans and the board so I am going to launch and campaign to all hearts fans, lets reclaim our club," Aziz told Joy FM.
"This is not about fighting anybody but we are going to raise funds to pay-off whoever is the largest shareholder and take our club back.
"We don't want anybody to own this club again, we the supporters want to own our club Accra Hearts of Oak."