TV Money: Know how much money teams earned last season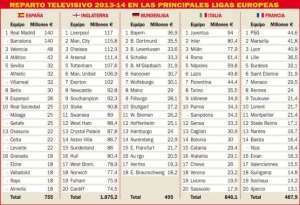 On Tuesday, the Premier League is set to announce a record-breaking television deal worth £4.4 billion (€5.93 billion), according to Dan Roan of BBC Sport.
As a graphic posted by AS on its Twitter account shows, it will certainly be a case of "the rich getting richer."
Its figures show that Cardiff City (€74.5m), who finished bottom of the Premier League last season, made more than double in league television revenue than Bundesliga champions Bayern Munich.
They also earned considerably more than the champions of Spain, Atletico Madrid (€42m), and France, Paris Saint-Germain (€44.6m).
Interestingly , England's top earning clubs still trail Spanish giants Real Madrid and Barcelona.
Due to Spain's unbalanced television rights, the big two earn considerably more than anyone else in La Liga, and both earned more than three times as much as Atletico despite finishing below them in the league.
credit: AS