Live by your word: Kuffour's hair shaved on live TV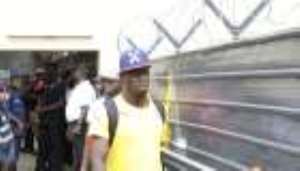 Former Ghana defender, Sammy Kuffour has had his hair shaven on live television following the Black Stars heartbreaking penalty shootout defeat to the Ivory Coast in Sunday's Africa Cup of Nations final.
A regular panelist on Supersport's coverage of the tournament on DSTV, Kuffour had sworn to have his well tailored hair shaven live on TV if the Black Stars failed to end the country's first continental championship since 1982.
The legendary defender first pledged to have his hair shaven if Ghana lost to South Africa whose country it was he was based throughout the tournament working with Supersport of course.
2-1 the Black Stars came from a goal down to defeat the Bafana Bafana to save Kuffour's blushes but it became a norm for the former Bayern Munich UEFA Champions league winning defender who made the same vow before Ghana's quarter final as well as semi final victories over Guinea and Equatorial Guinea respectively.
So it came to pass that, Kuffour did vow again before Sunday's final to shave his hair if the Black Stars lost the deciding game to the Ivory Coast.
As it did happen, Ghana lost a marathon penalty shootout to the Ivory Coast again, putting Kuffour in teh difficult position of living by his word.
But indeed Sammy Tugah proved he was a man of his word and he was promptly shave live on television, first by Sueprsport host, Robert Marawa who then handed Kuffour over to the professional barber who had been ready at the studio for every Ghana game.
"We played very well today but unfortunately in football anything can happen and it happened to us," Kuffour lamented before offering himself to be shaven.
"I said it, I promised to shave my hair so I have to accept it, I am a man of my word," the former Ghana defender added.
Kuffour who consisitently predicted Ghana games including even the scorers in both quarter and semi final victories, confessed he had a vision of Dede Ayew crying and Yaya Toure lifting the trophy last night but could just not say it.
"I told (host Robert Marawa) when I came today, it was difficult for me but I cannot disappoint my people and say that on TV, it's a very difficult situation," Kuffour said which was confirmed by Marawa.