Juju Spiderman? The story behind Razak Braimah's Spiderman revealed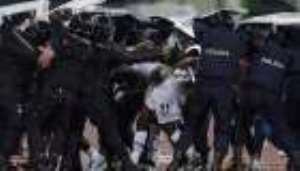 The fans of Equatorial Guinea took most of the headlines with their violent behavior to Ghana fans after the Black Stars defeated the host nation by three goals to nil in the semifinal of the 2015 Africa Cup of Nations.
Razak Braimah, Black Stars' goalkeeper on the night also managed to make his mark on the game despite not having much to do in the post after cameras captured the goalkeeper kissing a Spiderman toy and placing it by his goal post.
The Spiderman mystery went viral on social media with football fans wondering why the Ghana goalkeeper had the toy.
A Spiderman doll and a tournament on the African continent could however not be devoid of 'juju' claims as critics claimed the doll was a charm for Razak Braimah.
The Spiderman toy captured on camera in the Ghana vs Equatorial Guinea game is not any 'juju' and here's why.
The Spiderman toy placed by the post by Razak Braimah in the semifinal game is a favourite toy for his son Nasser. Nasser gave the toy to his father Braimah for the 2015 Africa Cup of Nations and as a family man, the goalkeeper keeps it for his games. The Black Stars goalkeeper is even reported to call his son Nasser  'Spiderman'.
The goalkeeper who wished his son a happy birthday with his under T-shirt on live TV also has the names of his son Nasser and mother Rabiatu on his gloves.
So in short, the Spiderman toy is a show of love to family from Black Stars goalkeeper Razak Braimah, NOT JUJU. Follow @kboakye92