Grant attributes instant success as Ghana coach to right selection of players and staff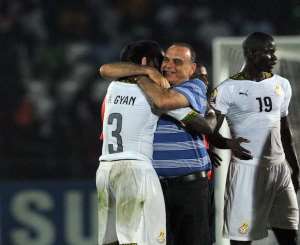 By Ameenu Shardow
Follow on Twitter @alooameenu
Avram Grant has attributed his instant success as coach of Ghana to the good decisions made with the selection of players and his backroom staff.
The Black Stars have defied all odds – especially after a disastrous start – to make it all the way to the finals of the 2015 Africa Cup of Nations.
Avram Grant's team had to brave the storm after suffering defeat in their opening group game against Senegal to pick up vital wins to stay alive in the tournament.
Key amongst the victories was that of Algeria where the Black Stars needed a moment of inspiration in virtually the last kick of the game from ailing captain Asamoah Gyan to get their campaign in Equatorial Guinea back on track.
The Black Stars have since received plaudits for exceeding expectations especially with Grant taking over as coach of the side just six weeks to the start of the tournament.
The former Chelsea boss however says he had to make the right decisions in the selection of his players and technical staff.
"I started work on 1 st of December, it was very difficult because I needed to pick a team in a very short time," he said.
"And as I said before I have three parameters which is first quality, mentality and third players who really want to give everything for their country.
"The first was to choose the right players and then the staff and I think we did a good job with the ones already in Ghana and the ones we had to bring from outside.
"It was not easy [in selecting players] because I needed to ask and everybody had a different opinion so I gave up on this.
"Especially the Ghanaian people, they like to be coaches, they're very good coaches but the only problem is if I had to listen to everyone there will be 120 players in the squad.
"So I needed to rely on videos, on opinions of people who I know from my experience in football.
"And it was not easy but I must tell you with the parameters I told you about and also mindful of the generation – the need to build something for the future.
"I think when I look back, I must say we chose the right squad. They are good players.
"I can see everyone giving more than a 100 percent. The quality is better and better and the players pick up tactics very fast.
"This has not been easy in the short time. I slept maybe just two hours a day watching videos to choose the players and as you see it was good.
"Of course we can always do better but I think we chose the right squad."
This AFCON news on GHANASoccernet.com is brought to you by Unibank, Caring for You