Ghana ready to play ugly football if required to win 2015 AFCON – Andre Ayew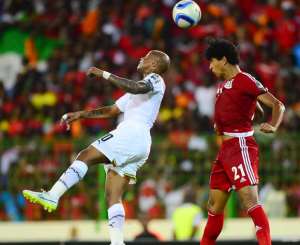 By Ameenu Shardow
Follow on Twitter @alooameenu
Ghana forward Andre Ayew insists the team is determined to win the 2015 Africa Cup of Nations even it means playing ugly football.
The Black Stars face Cote d'Ivoire in the finals of the tournament being staged in Equatorial Guinea on Sunday in Bata.
Ghana recovered from a disastrous start to exceed expectations by going all the way to the finals.
The Black Stars however start as underdogs against the star-studded Ivorian side in the grand finale on Sunday.
But Andre Ayew says the players are ready to 'give everything' to end Ghana's trophy drought which spans over three decades on Sunday even if it requires playing ugly football to secure the desired result.
"We hope that this final will be the good one," the Olympique Marseille man said.
"When you play a final it's not to play good or play bad but it is just at the end of the day you win the trophy.
"People forgot we went to the finals in Angola [2010] so for me when you get so far, you need to do everything to get the trophy.
"We are not God, we don't know what is going to happen but I can assure Ghanaians that we will give everything we have to get the trophy."
This AFCON news on GHANASoccernet.com is brought to you by Unibank, Caring for You