It's a shame: Sammy Kuffour slams Equatorial Guinea disgrace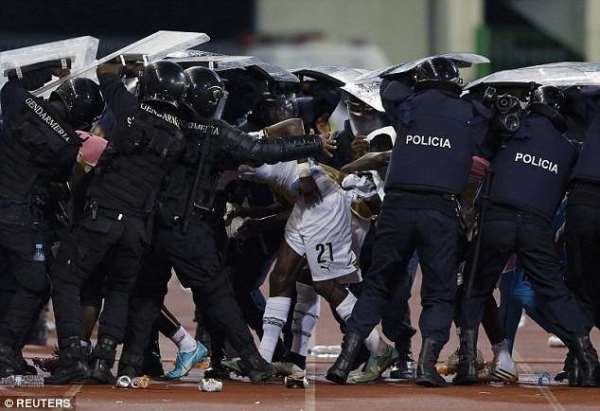 Legendary Black Stars defender, Sammy Kuffour has expressed profound disappointment at the conduct of Equatorial Guinea fans during their 2015 Africa Cup of Nations semi final defeat to Ghana in Malabo on Thursday.
With the Black Stars leading by an obviously unassailable 3-0 scoreline, the home supporters turned their frustrations on the few Ghanaian supporters at the Estadio de Malabo who had no choice than to rush through the gates unto the pitch to save their lives.
Play was held up for over 20 minutes before sanity was restored and the remaining few minutes of the game played to hand the Black Stars passage into Sunday's final against neighbours Ivory Coast.
The Equatorial Guinea fans had shown signs of their frustrations at the halftime interval when they started throwing missiles unto pitch but it got worse after Ghana's third goal resulting in the lengthy hold up and Kuffour is furious at the conduct.
"This was very disgraceful to the entire continent, what are we trying to tell our children in future? The whole world is watching the game and to me it's a shame what the people of Equatorial Guinea did," Kuffour pointed out on live TV as panelist on Supersport on DSTV's AFCON 2015 presentation.
"Equatorial Guinea have to face the fact that they are just not good enough. They desperately want to be  in the final but the quality of the players that you have, you are not going to get there, and you go and do this, It's a big shame and disgrace to Africa," the former Bayern Munich defender said.
"My concern is about the people who are there as Ghanaians to support our team, they are all in danger now and we don't even know what is happening outside the stadium. It's a big disgrace and CAF have to punish them severely," Kuffour added. Follow @thedonplato