Feature: What Avram Grant has done right to steer Ghana in the right direction at AFCON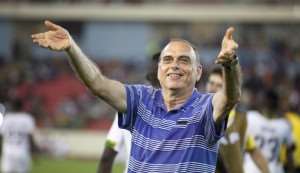 By: S. O. Yeboah
On a trip to a quiet city in Southern Brazil close to the Uruguayan border, I lived in a small lodge. In this remote part of the world where few people speak any language other than Portuguese and Spanish, I saw the Ghanaian flag and I proudly pointed it out as my country's national flag.
The flag was displayed because of the appearance of the Black Stars at the 2014 World Cup in Brazil. I was loud enough to tell the Brazilians that my country played a 2-all draw with Germany and they all looked surprised. "You mean your [African] country managed to draw with Germany?" they asked.
My answer was always simple, "yes – it happened right here in Brazil, but no one was watching.". Of course most Brazilians' preconceptions of German soccer significantly changed after the World Cup after that 7-goal thrashing. But the Black Stars held the fort and drew with the same team.
The moral of the story is that football gives the average Ghanaian a positive status outside Ghana. Football is to us, what consumer electronics is to Korea; what affordable products are to China and what oil is to Saudi Arabia. Many things we have developed have failed.
However, Ghana's unique and disproportionate representation in football is enormous. In spite of our achievements, we have potential and we need to develop it. There is no doubt that the Black Stars is the pivot on which our soccer development lies. All our players have a dream of playing in one of the top five leagues in Europe and also leading the Black Stars to win glories.
Therefore, it is apparent that we need a conscious plan and an effort to consolidate our gains and build a better foundation for our soccer development.
The purpose of this article is to highlight where Avram Grant have made important and significant gains that we need to consolidate and convert into standard policies that will guide the management and technical team of the Black Stars in the years to come. This article is not meant to condemn previous administrators and technical officials of the Black Stars. It is a constructive document meant to promote efficiency and effectiveness in our beloved Black Stars. I must also stress that this article is not meant to describe the current team as invincible. We could lose our last games and come back empty-handed.
However, there have been some positive gains that we need to identify and encourage in order to eliminate various leakages and bottlenecks in the system. There are three main things that will be discussed in this article. And it includes the most significant issues and matters that must be considered if we want to develop the team and take it to the next level.
SELECTION PROCESS
It is obvious and apparent that the selection process of the Black Stars is open to various levels of favouritism which in turn gives rise to suspicions and allegations of corruption. We have all seen players brought on from nowhere who started games in major tournaments without any prior contributions to the team.
We have also seen episodes where our team presented players who were meant to play in certain roles. And whenever a player in the role of that player needed to be replaced, the one sent to play that role could not be called upon. That is simply because the substitute in question might be so much out of shape that he could not be presented as a replacement.
Finally, the destructive concept of "utility player" that was introduced to the Black Stars has caused major problems for us. The attempts use top players in top clubs around the world in wrong positions have come at a great cost to the team. We all have fond memories of top players like Michael Essien and Kwadwo Asamoah being used in defensive roles when they could do much better in offensive positions in the team.
Grant has done a lot to turn these trends around. First of all, his selection was designed to eliminate some players who clearly did not belong to the team. The tradition of inviting certain players because of what they might have done for the team in the past has been terminated by Avram Grant.
John Boye was among one of the players benched in the earlier matches. He is now on form
Not so long ago, we saw some players who can best be described as "extras" invited to join the World Cup squad in Brazil. Most of those players were just below the standard of players to be sent to major tournaments. Grant's bold decision to exclude those players and experiment with some new faces including some young and inexperienced players is one that must be applauded. The national team is to be opened up to players who are competent, fit and can meet the objectives at hand.
Secondly, Avram Grant has used players in their rightful positions. This is a very good development because it helps the players in many ways. First of all, they are able to give their best to their team. Additionally, players are able to improve their competencies and gain new experiences that could have a symbiotic impact on the team and the players.
It appears that Grant has a strategy and each player is to be made to stay within this broad strategy. A player who does not fit into the strategy is left on the bench. And that is very good and laudable. Roles are clearly defined and players are expected to meet these objectives. Notable examples of such players is Kwesi Appiah who was given definite tasks that he performed to specification in the two games he starred in.
THE DEFENSIVE MIDFIELD
The Black Stars has had a major challenge with the defensive midfield over the past 5 years after Michael Essien became irregular with the team. Arguably, the defensive midfield is the most important aspect of every team. This is because it takes good defensive midfielders to patrol the front of the penalty box to prevent the opponents from building up an attack.
Secondly, in every build up by a team, it takes good defensive midfielders to lay accurate passes and urge the team on. In the past 5 years, with the notable exception of the 2010 World Cup and the first two games of Brazil 2014, Ghana has had to struggle with the creation and maintenance of a good and stable defensive midfield.
In South Africa 2010, KP Boateng, Kwadwo Asamoah and Sulley Muntari held the Ghanaian defensive midfield in the most incredible manner. In the 2012 and 2013 AFCONs,only two players were given the role of holding the defensive midfield – Rabiu Mohammed and Derek Boateng.
Christian Atsu has proved to be one of Ghana important midfielders
In many dimensions, this was why Ghana failed to win those two editions of the AFCON. One of the two players given the defensive midfield role started his career as Ghana's most brilliant strikers. However, understandably, he had to be converted to a midfielder due to the fact that there is discrimination against Africans in Europe when it comes to offensive roles.
Even that,this individual was never a true defensive midfielder, but a forward-oriented midfielder. However, our "utility player" concept got us to risk him and any time he came on, Ghana conceded crucial goals. This was not because of incompetency, but because we were using a player talented to take up another role in a sensitive role he was not cut out for.
This issue was somewhat put to rest when Sulley Muntari resurfaced in the World Cup and played a major and crucial role in our first two games of Brazil 2014. Muntari set up three out of our four goals at the World Cup and also tackled hard enough to get us our best performance against a former World Cup winning team – a 2-all draw against Germany. Muntari really deserves credit for his almost single-handed effort in holding the midfield in our two games.
Avram Grant has made a significant change in the team's defensive midfield structure. First of all, he has a pool of not one or two defensive midfielders, but four. Grant utilises Afriyie-Acquah and Rabiu in the defensive role of the defensive midfield and he uses Mubarak Wakaso and Agyemang Badu in the distributive role of the defensive midfield. At each point in time, one of the two in the two categories is placed on the field to keep a compact and effective defensive midfield that gels with the rest of the team. Over the past four years, Wakaso and Badu were both in the team but they were attacking-minded players.
Using them deeper in midfield might have helped the Black Stars against teams like Zambia and Burkina Faso. Under Grant, this end has been achieved and these two players have been more productive than ever.
GOOD SUBSTITUTIONS
With the right players in the camp of the team and the use of specialised players in various roles, there is a clear definition of the obligation of each player. Hence, there is always an option and a good choice to be made at different points in time. Secondly, roles are defined and all players know what they ought to do and how they ought to behave at every point in time.
Therefore, players are brought on to deal with specific issues and matters in the game. This causes us to change our game from time to time and attain specific results.
It is therefore conclusive that Avram Grant has made major changes to the way things are done in the Black Stars. We need to take heed of some of the changes he has brought into the team and institutionalise them.
This is because we are paying a lot of money and we will need to gain benefits as a team that will be applicable long after Grant leaves the team. These lessons are in the selection process, consolidation of the midfield and the definition of specific roles for players.
Although we are yet to overcome our trophy drought for 33 years, I will not be surprised if these changes and the hard work of the players leads us to our first trophy on Sunday.
Do you agree with the writer? Do you think Grant has done well and is there more to do? Make your views known in the box below