Godwin Attram to play in Ecuador ... starts building Attram Visser Football Academy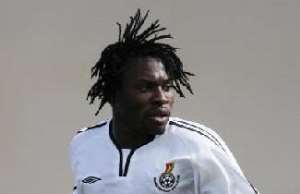 Former Black Starlets 1997 skipper and influential footballer Godwin Attram has not yet hanged his boots as he wants to end his career featuring on all the continents of the world.
After playing in Europe, Asia and Africa, the player who loves to be called "Platini" has decided to move to South America and he is going to play for top side Deportive Arogues.
Speaking to yours truly in an exclusive interview in Accra, the man who last played for the Black Stars in Egypt 2006 African Cup of Nations said he was very happy to be a footballer,
and trying his best to support young players as an agent, scout and coach. He said football has done much for him and it is time he also pays back to the society that has cheered and supported
him from his childhood days at Cowlane Babies till he went to Accra Great Olympics and PSV Eindhoven in Holland.
He said the decision to build an academy came from his mentor Piet De Visser who has helped him through out his life and career as a professional footballer and wanted to help in the grooming of local players to become international stars.
He said football has given him the opportunity to meet many people and traveled to many places.
According to Attram, the academy would be open to young players aged from 10 years to 17 years and they would be groomed for the local leagues and international leagues.
Attram hinted that the academy which would be named ATTRAM VISSER Football Academy is base at Roman Hill, near Sowutuom and Alhaji Tabora in Accra, where he had the land to put up a property.
He praised the Black Stars for reaching the best four of the Afcon 2015 and wished that Ghana will win the African Cup for the fifth time. He urged the players to go all out and die for the nation as well as made themselves proud.
Attram who wanted to play for his mother club Accra Great Olympics before ending his profession said there is no professionalism in the local game as more must be done to improve the whole
organisation in terms of player development, officiating, media, medicals and even the fans must show that they have developed after Ghana has gone to the FIFA World Cup on three occasions and also been to the African Cup tournament several times.
Godwin Attram advised Ghanaian players to be focused, disciplined and try to learn new things. He also wished that the players will obey instructions from their coaches as the modern game has
a lot to which tactics and techniques of coaches.
By Sammy Heywood Okine
Sammy Heywood Okine
Sports Journalist