Distinction in MA International Relations: Asamoah Gyan Foundation produce first graduate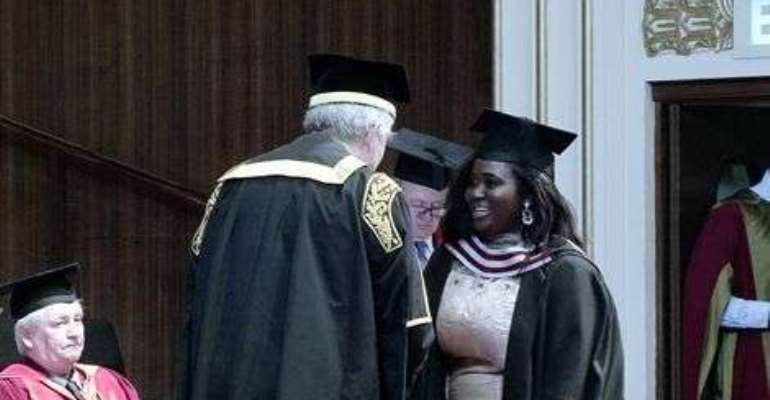 The Asamoah Gyan Foundation, run by the Black Stars captain are celebrating a first Masters graduate following the acquisition of a Master of Arts in International Relations degree by Vida Adumtwumwaa Boateng, a beneficiary of the charity organisation's initiative of supporting Girl Child Education.
Miss Boateng has freshly graduated from London based Swansea University in the United Kingdom where she made history as not just as one of few Africans to graduate with distinction but she also re-wrote the record books as the only African to ever graduate with distinction in MA. International Relations.
'My Masters award is dedicated to the Asamoah Gyan Foundation for their invaluable support and to join hands with the foundation to boost girl child education," Vida Adumtwumwaa Boateng said.
"I am much grateful. Education is an admirable thing, but it is well to remember from time to time that nothing that is worth knowing can be taught," she added.
New graduate, Vida Adutwumwaa Boateng already made the news recently when she was allegedly physically attacked by jailed cocaine baroness, Nayele Ametefe's supposed family member when reporting live from Isleworth Crown Court in London for Accra based radio station, Peace FM during the infamous cocaine saga ruling in the UK.
"I am always a student, never a master. I have to keep moving forward to impact on others,' Miss Boateng said.
Gyan's foundation have assisted hundreds of girls to further their education both home and abroad, among many other humanitarian initiatives including adopting a set of motherless triplets as well as paying for the surgery of a blind man recently.
But the football star insists there are even more to come for the less privileged in the Ghanaian society.
"The vision of the Asamoah Gyan Foundation is to stimulate action for change among the vulnerable and needy members of marginalized society," he explained.
"We work with such people empowering them with the dignity that having freedom provides. Through this, we help them achieve higher social, economic and intellectual status thus improving their quality of life," Gyan continued.
"Our vision is to make AGF the preferred charitable organization identified by national organizations, the donor community, and multinational organizations to facilitate resource mobilization to boost socio-economic development in under-served communities and districts," he concluded. Follow @thedonplato