OFFICIAL: Medeama release 'troubled' winger Anoobah to Egyptian side Ismaily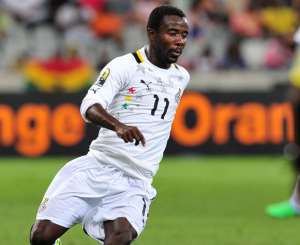 Medeama released winger Theophilus Anoobah to join Egyptian side Ismaily, the club confirmed on Monday.
The 23-year-old has been in a tango with the club since late last year over contractual issues which forced the Mauve and Yellows to suspend him indefinitely.
Medeama blocked his move to fellow Egyptian side Petrojet in November last year but have now agreed to release him in exchange for an undisclosed amount of money to enable him continue his career.
The Tarkwa-based side agreed to the new deal to end months of acrimony between the two parties.
"We want to inform our supporters and other stakeholders that Medeama have agreed to release Theophilus Anoobah to Egyptian side Ismaily," club chairman James Essilfie told the club's official website.
"We are still negotiating the terms of reference. But we are 95-98% through with the agreement.
"Hopefully we'll finalise the deal by the close of the week to allow him leave. We wish him well."