Ghana coach wants Guinea goalkeeper Naby Yattara banned from football over career-threatening lunge on Asamoah Gyan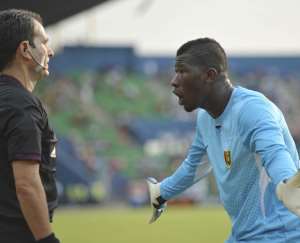 By Ameenu Shardow
Follow on Twitter @alooameenu
Avram Grant wants Guinea goalkeeper Naby Yattara banned from football for his career-threatening lunge on Asamoah Gyan which has left the Ghana captain now racing against time to be fit for the semi final clash against Equatorial Guinea.
Yattara lunged into the manhood area of the Al Ain ace with his studs showing in the dying minutes of the quarter final game played in Malabo on Sunday.
The Arles Avignon goalkeeper was rightly sent off but the harm had already been done to the Ghana captain who was aided into the team bus after the game.
Ghana coach Avram Grants wants a severe punishment handed to Yattara – possibly a lifetime ban from football – to set an example of how seriously CAF takes the safety and protection of players.
"I must tell you the issue of Asamoah Gyan is not only an issue for Asamoah Gyan," Grant told reporters on Monday.
"What this goalkeeper did to Asamoah Gyan I think is an opportunity for CAF to show everybody how they protect the players.
"When it is 3-0, when the goalkeeper deliberately – maybe to finish the career of Asamoah Gyan – because a few centimeters down and I can tell you he wouldn't play for a long time.
"CAF needs to take a decision, I think this player needs to be banned from the game for a long long time – even for years.
"First it is a bad injury, second if you do it when it is 3-0 in the last minutes means you do not respect the game and you do not respect your friends who play against you.
"I hope, I am waiting to see what will be the punishment for this goalkeeper. For me, I don't want to see him on the football pitch again."
Gyan has meanwhile been flown to Mongomo for an MRI scan to ascertain the severity of his injury.
The Black Stars striker has played every single minute of Ghana's campaign in Equatorial Guinea after missing the opening defeat to Senegal through illness.
This AFCON news on GHANASoccernet.com is brought to you by Unibank, Caring for You