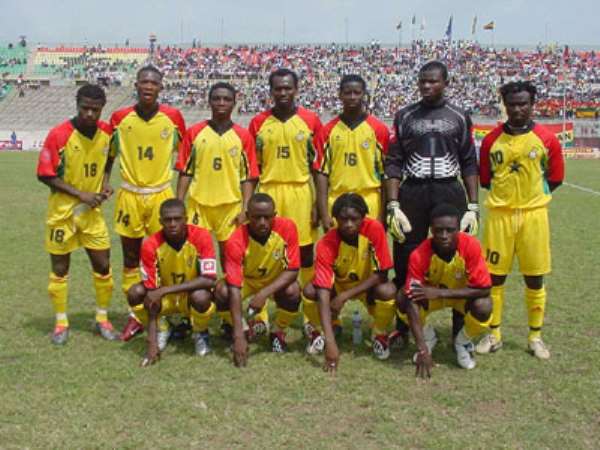 ... Trash German Side 8-1 ... Sporting Lisbon Game Cancelled Ghana's Olympic football team, the Black Meteors' preparations ahead of the Athens games has hit a snag due to club commitments.
From a fifteen-man squad, the Olympic squad is been depleted to ten with five players leaving the national camp this week to play for their local clubs in continental games.
The Black Meteors who are in their second week of training in Portugal were billed to play, Sporting Lisbon Friday but the game is been called off.
Coach Mariano Barreto presently has only ten players to work with, making it difficult to raise a team for the competitive game.
Out of the ten players available, Barreto can rely on the services of only one goalkeeper, Mohammed Alhassan.
Barreto's first choice goalkeeper, Goerge Owoo, together with colleagues Yusif Chibsah, Charles Taylor and William Tierro have joined Asante Kotoko squad for Saturday's African Confederations Cup second leg tie against WAC of Morocco in Casablanca.
The Kotoko quartet would however rejoin the Meteors team after the game.
Mariano Barreto's setbacks do not end with the Kotoko quartet but has lost Accra defender Dan Coleman to Hearts of Oak, also engaged in an African Confederations Cup game on Saturday.
The Black Meteors coach, Mariano Barreto had to cancel Tuesday's scheduled trial match against English Premiership side, Bolton Wanderers late Monday.
The coach cited the departure of four of his players to join the Kotoko contingent transiting through Milan, Italy enroute to Casablanca, Morocco as the reason for the last minute cancellation.
Barreto on Tuesday stated that the team had been reduced to eleven men at the time after the departure of the four Kotoko players making it impossible to honour a game with a strong side as Bolton Wanderers who have their full squad plus latest signings in Portugal preparing for the 2004/2005 English Premiership season.
Meanwhile, the Black Meteors on Wednesday beat a German second division side 8-1 in a trail game.