AFCON 2015: Avram Grant salivates about Black Stars unyielding bravery after Algeria victory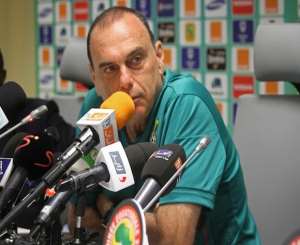 Ghana coach Avram Grant is overjoyed by his team's heroic performance in the 1-0 win over Algeria on Friday.
Captain Asamoah Gyan scored in injury time to hand the Black Stars the vital win to revive their campaign at the 2015 Africa Cup of Nations.
The win now sees Ghana in good stead to progress from Group C ahead of their final game against South Africa on Tueday.
Ghana had suffered a massive setback in their opening group game of the tournament with a 2-1 defeat to Senegal.
The win on Friday over the tournament favourites now put's the Black Stars back on track to picking up one of the two qualification slots from Group C.
And Grant couldn't be happier with the versatile performance of his team against the very good North Africans.
"I am happy exactly the way I was sad in the last game," he said.
"In the last game we conceded a goal in the last minute – we didn't deserve it.
"And today we scored in the last moment but I think today we deserved it.
"The second half especially was better than the game against Senegal and you remember Algeria is ranked number one in Africa.
"They did a good World Cup and they know how to play football. They play very good football and they play tactically.
"We could have scored before but we did in the last minute and you can imagine how happy I am."