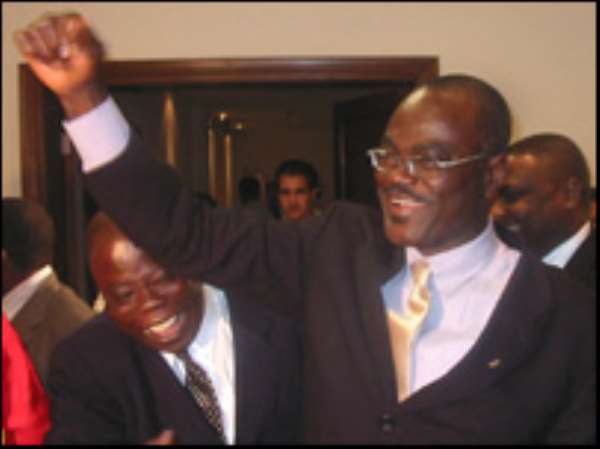 Ghana's successful bid of hosting the 2008 African Cup of Nations, has catapulted Dr Kofi Amoah, the Chairman of Ghana's bid-winning committee to world football's movers and shakers.
Even though Dr. Kofi Amoah was previously unknown in the football business, he is prominent in the banking world as Africa's representative of Western Union Money Transfer and Chief Executive Officer of Progeny Ventures.
Reports of the Libyan leader Colonel Muammar Gadafy buying Crystal Palace, the newly promoted English Premiership team over the weekend and few days after Libya failed in its bid to host the 2008 Africa Cup of Nations has sent football experts investigating how and why Libya lost the bid to Ghana.
After years when Col Gadafy's name was associated most readily with state-sponsored terrorism, the hosting of the 2008 Nations Cup could have offered Libya the short-cut to international acceptance as football offers appealing PR opportunities. Libya started repairing its international image early this year with its denunciation of Weapons of Mass Destruction and a visit by Tony Blair, the British Prime Minister to Tripoli.
Even though Libya is financially much endowed as compared to Ghana, the successful bid of hosting the 2008 African Cup of Nations has been attributed to the Chairman of the bidding committee of Ghana Dr. Kofi Amoah.
In a telephone interview with GHANAWEB yesterday he attributed the success to the government of Ghana's commitment and the entire bidding committee. He said: "the government of Ghana and the 17 members of the committee are responsible." He added that: "even though Libya is much endowed financially the committee members took the right approach in arguing Ghana's case for hosting the event."
Dr. Amoah has already been featured in football business magazines and newspapers in Europe since Ghana won the bid and is said to be featured in the respected "Soccer Investor" magazine.
Even though Gadafy has denied any interest in Crystal Palace, a report in today's edition of "The Daily Telegraph" paints a picture of Libya continuing to redeem its international image through football.
Al Saadi, the fourth son of Gadafy is reported to be interested in investing in Liverpoool. Al Saadi led Libya's unsuccessful bids to stage the 2010 World Cup and 2008 Nations Cup. Off the field Saadi has invested £14 million to buy 5.31 per cent of Stephen Appiah's Juventus.
Meanwhile international construction firms are putting in their bids to construct the two new stadia for Ghana for the 2008 Nations Cup. Dr. Kofi Amoah said "already five international developers have expressed interest and more are expected to follow."