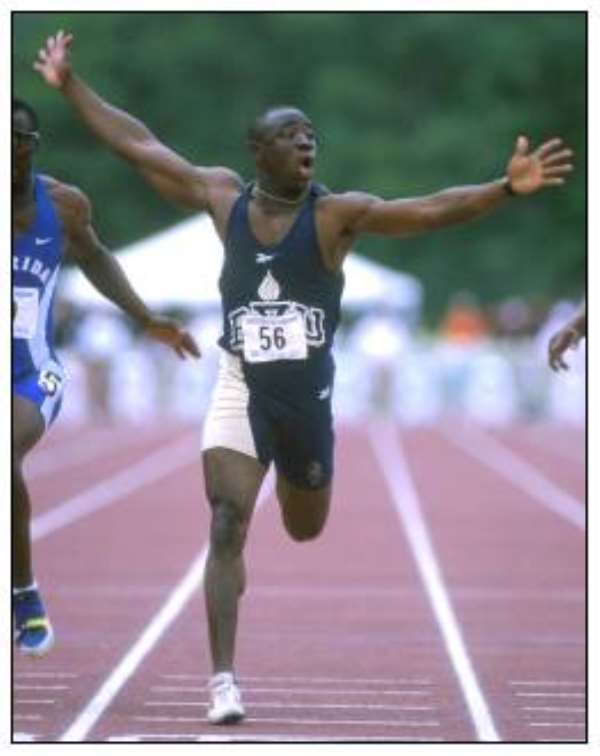 PROVO, Utah (July 15, 2004) -- After months of anticipation, former BYU All-American Leonard Myles-Mills is glad to finally know he will represent his native country Ghana at the 2004 Summer Olympic Games in Athens, Greece next month.
"I'm excited about going to the Olympics again," Myles-Mills said. "I just wish I had known sooner than one month before the Olympics. It takes a lot of preparation, but it's great to compete for your country and know that everyone out there is competing for one reason--the gold."
Along with the exciting news, Myles-Mills learned that he will reunite with members of the 2000 Ghana 400-meter relay team in Cologne, Germany next week. They hope to improve their world ranking of 14th as they compete in several European meets before the Olympics.
"We need to bump up our ranking because only the top 16 teams will be able to compete at this year's Olympics, unlike 2000 where everyone could compete," he said. "We should do well together. We have a strong friendship and know how to motivate each other. Plus, all of us grew up together and raced in high school."
Myles-Mills will also compete in the 100 meters next month after placing ninth overall in the 2000 Olympic Games in Sydney, Australia.
At the NCAA Outdoor Championships in 1999, he won the 100 meters with a time of 9.98 for the second consecutive year, becoming one of the few men who have accomplished this feat. He was also the first Cougar to repeat as NCAA champion in an event since Ed Eyestone won the 10,000 meters in 1984 and 1985.
Although a stress fracture in his right foot has limited his competition this year, Myles-Mills feels optimistic about its recovery.
"My foot has been feeling great," he said. "When I go out and train everyday and my foot feels good, I feel like I win a gold medal because everything is going well."
As the sprint coach at BYU, Myles-Mills trains and sometimes competes at some of their meets during the season. Although he has to endure some teasing about getting old and still being fast, he finds far more positive sides to his job.
"They get all excited about me going to the Olympics and used to ask me all the time if I was going," he said. "Although they tease me sometimes, they also encourage me a lot. We have fun, but we get the job done too."
This competitor has seen the sport from many angles through the years, and with the Olympics only a few weeks away, he'll get to experience one of his favorite parts once again.
"When you hear the crowd and look up and see the Olympic symbol, it hits you about where you are," he said. "Although you block the crowd and everything out during the race, you hear them twice as loud when you finish."