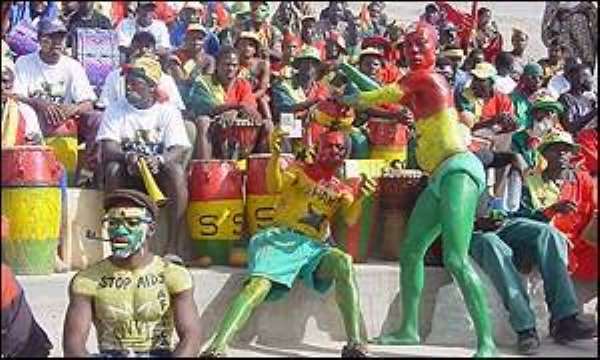 Many Ghanaians erupted into jubilation when the Black Stars of Ghana scored the much-needed equaliser against the Cranes of Uganda in the Group Two football clash in Kampala on Saturday. Just after the commentators shouted their hoarse voices with the expectant "it's a goal" call sign, there was a simultaneous eruption of the blares of horns by taxi and tro-tro drivers along most of the streets of the national capital- Accra, signifying Ghana's achievement of at least earning an away point. Some of the relieved supporters could be seen making the sign of the cross while others raised both hands unto the skies signifying their thanks to God with others going into a frenzy of dancing and singing to the glory of the Stars.
Mr Philip Dornu Abbey, an Accra- Ho lorry driver described the score as very significant as the team managed against all odds to fetch the equaliser in the dying minutes of the game and expressed his thanks to the team while showing his satisfaction with the goal scored.
Mr D.J. Kojo Richard, a barber at the Ho lorry station in Accra commended the team for their effort in securing an away win and said the participation of the foreign based players is good for the build up of the Black Stars team.
He said the contribution of the foreign-based players has been very laudable and that the team can now be trusted upon to deliver the goods but stressed that there was the need for them to have enough camping periods to enable them understand each other to play cohesively play as a team.
Mr Kwame Adomako, a video - cassette seller said the Stars have done the country and themselves a good service by getting the equaliser in an away match.
He said the team should to be beefed up with strikers who have the crave for scoring goals and called on the technical handlers to assist the strikers to improve on their shooting and scoring skills. Mr Richard Opare Djan, a private security officer was full of praise for the achievements of the Stars and their coach, adding that they have done their best and hope that they would go places with their current performance.
Mr Michael Aboagye, Transport Officer of the GNA said the Stars have performed well and the result of the match showed the determination with which they approached the game and ensured that they got the equaliser to at least earn a point to keep the hope of the country alive and urged them to keep it up. 03 July 04