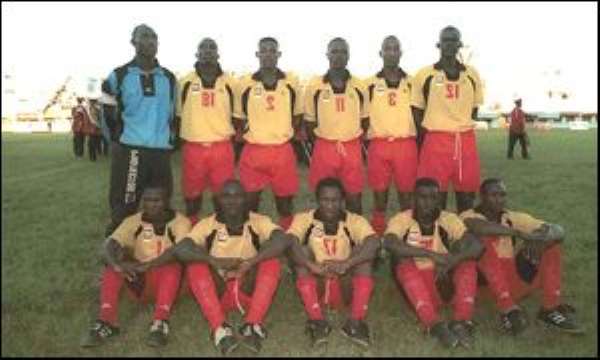 CRANES players have vowed to down Ghana's Black Stars at Namboole when they tussle it out in the World/ Nations Cup Group 2 encounter tomorrow. The players also asked the general public to have trust and support them in the team's campaign.
The players, who were in confident mood, told the press at Namboole yesterday that all their allowances have been cleared and they were only waiting for the match hour.
"We have always picked points from Ghana. It is now a matter of setting our psychology right for the game and we get the result," defender Timothy Batabaire said. He appealed to the press to "show patriotism" when reporting about the team.
"Write about our black Maradona (in reference to Hassan Mubiru) here instead of hyping Kuffour (Sammy). Putting our own players in the limelight will build their confidence and set them right psychologically," Batabaire advised.
The number of professionals on the Ghana team has also not scared the players. "They still had them the last time we met and everyone thought we were going to Kumasi for a beating, but the results speak for themselves," left back Nestroy Kizito said.
Team coach Mike Mutebi asked the press and the public to always give positive advice as the contrary would kill all the enthusiasm being built now. "Football is a commodity for sale and if not well packaged no body will buy and the result is that all stakeholders will suffer," the youthful tactician said.
Team manager Asuman Lubowa appealed for the mobilisation of all resources for a successful campaign.
Meanwhile, oil company Hared handed over a cheque of sh1.75m, 200 litres of fuel and T-shirts to Cranes' officials and players.
The hand over was made by company director Yahya Yusuf to FUFA vice president technical John Semanobe at their filling station at Kireka.
*Norman Katende adds that football fans subscribing to Save Our Soccer (SOS) pressure group yesterday donated sh1m cash to the Cranes working committee as a boost to the team.
The money was handed over to committee chairman Mike Sebalu at Lugogo.
SOS had earlier failed to hand it over at Namboole during the team's press conference.
"We never knew that there was another press conference (at Namboole). It was not working well that is why we decided to go to Lugogo. We did it as football fans," said SOS spokesman Dennis Mbidde.
Sebalu said that they received the money from football fans (not SOS) who responded to their appeal and requested the public not to politicise the gesture.