Chicago Blackhawks end Tampa Bay Lightning run, Dallas Stars finally win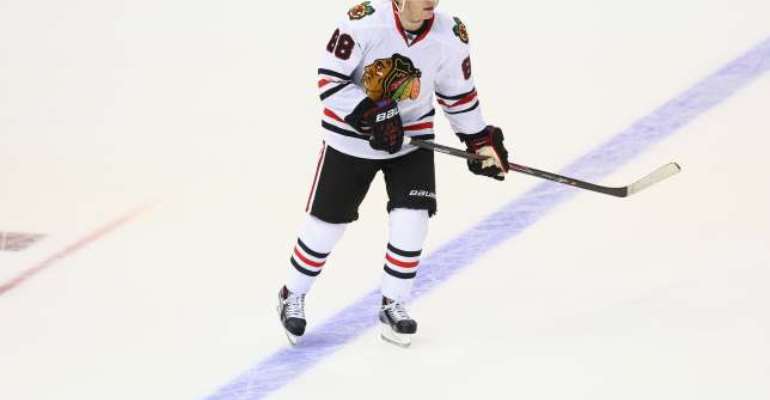 Patrick Kane scored the only goal in the shoot-out as the Blackhawks overcame the Lightning 3-2 at United Center.
Kane's goal ended the Lightning's winning streak at six, with goaltender Corey Crawford stopping shoot-out efforts from Ryan Callahan, Nikita Kucherov and Steven Stamkos.
The goalies starred throughout as Crawford (25 saves) and Ben Bishop (37) ensured a close contest.
Despite the loss, the Lightning remain top of the Atlantic Division, while the Blackhawks are third in Central.
Ryan Garbutt's short-handed goal with 76 seconds remaining saw the Stars edge the Arizona Coyotes 4-3.
It ended the Stars' losing streak at seven after they fought back from 2-0 down, with Tyler Seguin scoring a double for the victors.
There was no such turnaround for the Columbus Blue Jackets, who slumped to their ninth straight loss as they were beaten 4-2 by the Washington Capitals.
Marcus Johansson and Alex Ovechkin both scored braces for the Capitals.
The Pittsburgh Penguins' seven-match winning run came to an end, thrashed 5-0 by the New York Rangers.
The St Louis Blues thrashed the Buffalo Sabres 6-1 thanks to a hat-trick from Jori Lehtera and a double from Vladimir Tarasenko.
Carey Price shutout the Winnipeg Jets, making 29 saves as the Montreal Canadiens completed a 3-0 victory.
Daniel Sedin's overtime goal was enough for the Vancouver Canucks to battle past the Ottawa Senators 4-3.
A three-goal first period helped the Nashville Predators to a 3-2 victory against the Edmonton Oilers and the Florida Panthers eased past the San Jose Sharks 4-1.
The New York Islanders crushed the Colorado Avalanche 6-0 and the New Jersey Devils beat the Minnesota Wild 3-1.