Working together: Michael Hooper relishing Australia coach Michael Cheika's 'hands-on' style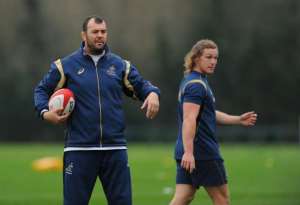 Cheika was appointed coach of Australia late last month after Ewen McKenzie's shock resignation following the Wallabies' 29-28 loss to New Zealand on October 18, with the Australian Rugby Union hoping the new boss can revive the national team the same way he did the Waratahs.
The Waratahs were crowned 2014 Super Rugby champions in August, less than two years after Cheika took over, following a poor 2012 when they won just four of 18 matches.
Cheika led Australia to a 40-36 win over the Barbarians last week - their first victory in four games - and Hooper reckons his club coach has already improved the atmosphere at Wallabies training.
"Mike is very hands on at training, loves to be around there," Australia's captain said on Friday.
"You could see him out there boxing with Quade [Cooper], so he loves being hands on and loves being with the team.
"But it is a short time to tell so far and we are always looking forward to the next week and the next week of training and just getting better."
Hooper added: "What he [Cheika] has brought in has been really positive for the group.
"The group has been really receptive to how he goes about coaching a team. I think we just keen to try and put it on a team tomorrow night."
Australia's next fixture is against Wales in Cardiff on Saturday and Hooper played down expectations for his team, claiming they simply want to keep improving ahead of next year's Rugby World Cup.
"It is all about a building phase for us and seeing if we can create an identity and a transparency within the team that is positive for us going forward into it next year," the 23-year-old said.
"So it is a learning curve for us and I really exciting one for myself."