Bukom Banku speaks: I will fight Bastie Samir if only Asamoah Gyan is promoter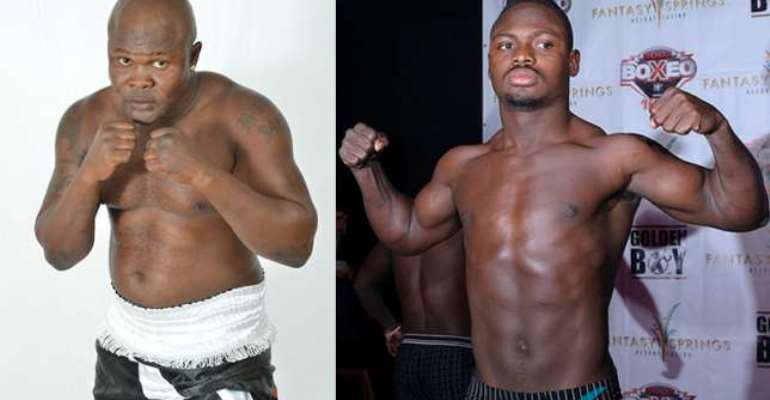 Braimah Kamoko has rubbished rumours he is scared of fighting US based Bastie Samir, instead the undefeated boxer has exclusively told AllSports.com.gh that he will fight the also unbeaten Samir if only the Asamoah Gyan-owned Baby Jet Promotions will promote the bout.
"Who is Bastie that I should be afraid of? I am ready to face him any day but I want Asamoah Gyan to be the promoter, not McDon. I want a big promoter because that will be a big fight," Kamoko famously called Bukom Banku told us.
It doesn't appear to be so easy though even as our sources indicate BabyJet Promotions indeed will be interested in promoting the Banku-Bastie fight along with their upcoming bill featuring Asamoah Gyan's first contracted boxer, Emmanuel Tagoe AKA Game Boy against Sadiki Momba of Tanzania.
McDon Promotions had already signed a contract with Bukom Banku to fight army officer, John Napari but their purported October 3 fight was cancelled after Napari was ruled to be medically unfit to fight professionally.
Keen to make their promotion debut before the year elapses, McDon identified WBA number 7 world rated Super Middleweight, Bastie Samir who is based and trains regularly with pound-for-pound boxing king, Floyd Mayweather in Las Vegas in the USA.
Bastie agreed to step up in weight to take on Banku at Cruiserweight but Kamoko has been adamant.
"He said over his dead body that he will fight Bastie but I expect Banku to come and fight. I have a contract with him and I have paid him 20% of the money and I have also given him money for other things," McDon Promotions CEO, McDon Atitsogbe explained.
"I am still expecting Bukom Banku to turn up to fight Bastie Samir. He said he didn't want an opponent from Ghana so we brought Bastie who started his career in the US and still lives and fights there. We were even working to bring Floyd Mayweather to see the fight," McDon added.
"Bastie is going back to America but if Banku is ready I will always put that fight up," Mr. Atitsogbe affirmed. Follow @thedonplato