Golf: Tigo Tema Open tees off November 15 and 16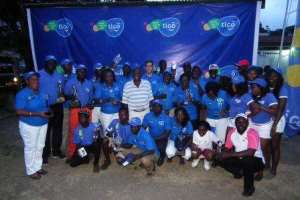 This year's edition of the annual Tigo Tema Open golf tournament tees off on Saturday November 15 and concludes on Sunday November 16, 2014 at the Tema Country Golf Club.
The yearly tournament sponsored by communication giants, Tigo is expected to see over two hundred (200) amateur and professional golfers from Ghana, Togo, and the United Kingdom participate in the two-day 36-hole scratch event.
According to Nicholas Amoah, General Manager of Tema Country Golf Club, competition is expected to keener this year following the huge prize giveaways Tigo have on offer for winners at the end of the tournament.
Some of the top golfers expected to play for honours at the 2014 Tigo Tema Open include host, Noel Hammond (Tema Country Golf Club captain) as well as other past leaders of the club like Felix Owusu-Adjapong (former Minister of State and former President of Tema Golf Club), Alex Fiagomey and Paul Owusu-Baah (immediate past Captain  of Tema).
CAL Bank boss, Frank Adu who is also Captain of Achimota Golf Club is also billed to lead the premier club's assault on the Tigo Tema Open with players like Mike Aggrey (Ghana Golfers Association Vice President), GGA President Felix Frempong and Mike Ezan (past President of Achimota) in tow.
Good old Mona Myles-Lamptey, Nana Bema-Tachie, Leticia Amponsah-Mensah, Beatrice Vetsch-Bempong, Ama Morgan, Lady Scintific Florence Etwi-Barimah and Margaret Owusu-Baah are some of the top players who will compete for glory in the ladies' section.
The entire tournament however gets underway on Tuesday when the professionals division tees off their 72-hole competition which is expected to be a close one between evergreen Emos Korblah, Vincent Torgah and Kojo Barnie.
Mouthwatering prizes and Tigo souvenirs are assured the winners in the various categories , as well there will be prizes for 'the longest drive, closest to the pin, and nearest to the pin as well as hole-in-one. Follow @thedonplato