4 Tunisian soldiers killed in bus shooting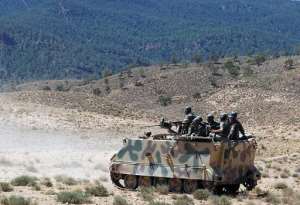 Tunisian soldiers patrol on June 11, 2013 in the Mount Chaambi region where the Tunisian army has been tracking militants. By Abderrazek Khlifi (AFP/File)
Tunis (AFP) - Four Tunisian soldiers were killed on Wednesday when suspected militants opened fire on a minibus carrying troops, the defence ministry said.
Describing the attack in northwestern Tunisia as a "terrorist operation," ministry spokesman Belhassen Oueslati said the suspects had escaped but were being hunted down.
"Two armed men approached the bus that was carrying soldiers and opened fire," he said, adding that the militants fled after the troops returned fire.
Three soldiers were initially reported to have been killed and a fourth died later of his wounds, Oueslati said.
Eleven others were also wounded, including one who was in serious condition.
Oueslati said there were only soldiers on the bus and not relatives too as first thought.
The attack occurred in the region of Nebeur, between the towns of Kef and Jendouba, close to the border with Algeria, he said.
Since its 2011 uprising Tunisia has witnessed frequent attacks by Islamist militants that authorities say have killed dozens of police and military personnel.
Security forces have engaged in a crackdown on militant groups close to the border with Algeria since the end of 2012.
The authorities have voiced fears that extremists might try to disrupt landmark elections.
The country is preparing for presidential polls on November 23 -- the first time Tunisians freely elect their head of state -- following a key parliamentary election last month in the cradle of the Arab Spring uprisings.