Michael Clarke dismisses questions surrounding Australian captaincy future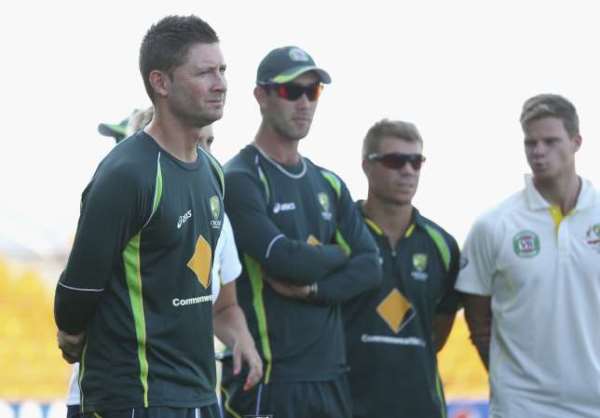 The skipper landed in Sydney on Wednesday morning and was grilled by the awaiting media about his future in the role.
Clarke has struggled with the bat of late, managing just two, three, 47 and five in the series whitewash to Pakistan and was left wanting by some of his decisions in the field.
However, the 33-year-old was visibly shocked by questions surrounding his future, saying he has been given no indication by selectors that his captaincy is in jeopardy.
"I would hope not," Clarke said when asked if he was worried about being replaced as Test skipper.
"You know, obviously we didn't perform as well as we would have liked in this series, but we did pretty well to beat the number one team in the world in their own conditions - South Africa - (in March).
"We did pretty well to win the Ashes 5-0. I hope I'm doing the team justice as their leader, as captain.
"But I guess the selectors make that decision and the Cricket Australia board make that decision.
"If they think there's someone better for the job, if they think my time is up as captain, then I'm sure they'll let me know.
"But, from my perspective, I feel like I've still got a lot to offer the team.
"I think my performances over the past five years have been pretty consistent and I think my captaincy's been pretty consistent over that period as well.
"So hopefully I'm not judged just on two Test matches."
Clarke made it clear his side are keen to move on from their disappointing performances against Pakistan ahead of their upcoming one-day series against South Africa which starts on November 14.
While admitting their performance with the bat was "unacceptable" over the two Tests, Clarke said there are a lot of positives ahead of the Australian summer.
"I'll be training tomorrow morning. I'm keen to make some runs," Clarke said.
"In a week's time, we've got a really important one-day series against South Africa so I see that as a positive. There's a quick turnaround. We're back on the field shortly.
"I know it's a different format but Australian cricket winning in any format of the game is what's important.
"As disappointed as I am, I think we need to put two Test matches into perspective.
"We've had a pretty good 12 months as a Test-playing team. If anything, this gives you more hunger to be successful."