England's Ryan Hall fires warning shot to New Zealand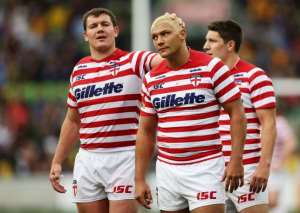 Leeds Rhinos man Hall had a huge hand in England's performance in their 16-12 loss to Australia at AAMI Park on Sunday but was quick to put a heart-breaking finale behind him ahead of their clutch battle across the Tasman.
Hall was thought to have got the vital touch on the ball in the try zone, diving past Kangaroos full-back Greg Inglis to ground the ball with one finger - although video referee Bernard Sutton ruled 'no try'.
But Hall, who scored an earlier try to rejoin Sam Tomkins as England's highest all-time try-scorer with 22, said he was looking forward to retribution after the Kiwis edged them 20-18 in the Rugby League World Cup semi-finals in November 2013.
England have to win by 10 points to secure a spot in the final in Wellington.
"We owe them one from last year," the 26-year-old said.
Hall added: "Yes it is [a challenge] but we've done it before [beaten NZ].
"We've beaten them at home quite convincingly, they were nothing but convincing against Samoa - in fact, I think Samoa deserved the win the other day.
"I haven't watched the game but we're going to have to dust ourselves off."
Despite launching England into the match - first with a stirring run out of his own in-goal area, before a gut-busting drive after being played through by full-back Tomkins - Hall said he would shelve any personal highlights for team glory.
Hall was also put through on the left sideline for England's second try by debutant Dan Sarginson.
"I'd trade that [winning games] any day for all the games I've scored in," said Hall, of his individual performance.
"Scoring tries is nice, obviously on the big stage, getting your name out there a bit but I think the win is something that all this team is striving for."
Hall claimed England were "commanding" the contest in the first half, after opening up a 12-4 lead, but said they failed to protect their advantage.
"The lads played well. Australia played well," he said.
"We were on top, we were commanding up until half-time.
"I think we went into our shell a little bit, obviously there's the error and we didn't really regain from there."