Great comeback: Drew Brees, New Orleans Saints recovered from shaky start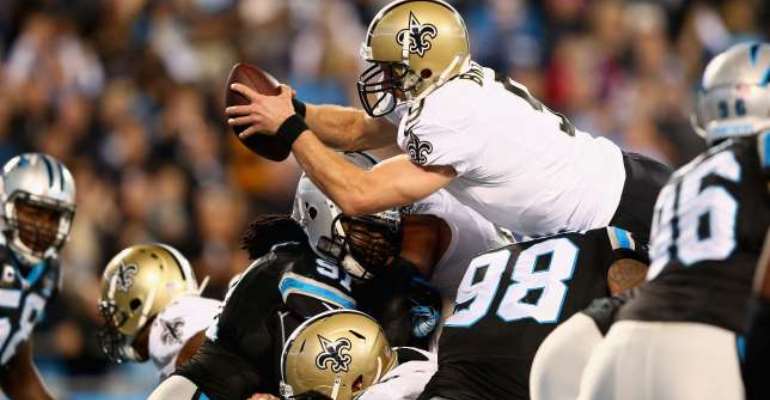 Brees had a pass intercepted and gave up possession with a fumble in the first quarter but recovered to help the Saints to two touchdowns just before half-time in Charlotte.
After the home-town Panthers scored the first TD of the second half through quarterback Cam Newton, Brees made a decisive play late in the third quarter, leaping over the line of scrimmage for a six-pointer.
Mark Ingram then scored his second touchdown of the game in the last stanza for New Orleans to wrap up an 18-point triumph in the NFL.
The victory took New Orleans to a 4-4 win-loss record this season, which is enough for them to lead the National Football Conference's (NFC) South division ahead of the Panthers (3-5).
A fumble from Newton just four yards from Carolina's end zone with 3:20 left in the second quarter allowed the Saints to open the scoring at the Bank of America Stadium, as they gained possession, before Brees handed off for Ingram to score.
Shayne Graham slotted the kick for the extra point and with 1:49 left in the first half, the visitors got the ball back again, with Brees leading them on an 85-yard drive that ended in the 35-year-old picking out Jimmy Graham in the end zone with a one-yard pass.
Down 14-0 at half-time, Carolina hit back in the fifth minute of the third quarter thanks to Newton's 10-yard rushing TD but Brees made a big play with 4:04 left in the term, taking a quick snap and leaping high to reach over the line of scrimmage and score.
The Panthers never recovered and although they scored a field goal early in the fourth term to reduce New Orleans' lead to 11 points, the visitors again got into the end zone through Ingram to make it two consecutive wins, while Carolina have lost their past three matches.