Plaudits come for MVP Madison Bumgarner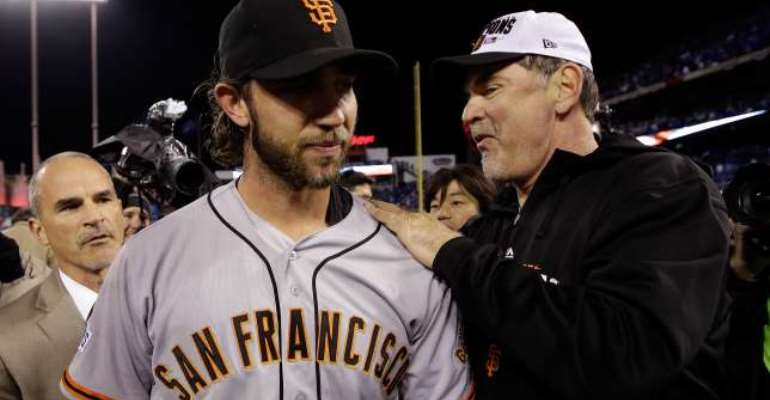 Bumgarner, the World Series MVP, totalled 21 innings pitched for the MLB championship series against the Kansas City Royals, allowing just one run on the mound.
Bochy had pre-empted his usage of Bumgarner in relief of starter Tim Hudson, and the star pitcher produced five scoreless innings after the Giants took a lead at the top of the fourth.
Hudson lasted just 1.2 innings, Jeremy Affeldt took the mound for 2.1 innings - earning the win with a scoreless performance - before Bumgarner's five-inning save.
"He was throwing so well, there was no way I could take him out," Bochy said.
"Just get on him and ride him. Again, it's just amazing what he did."
Bumgarner said despite pitching just two days after throwing a complete game on Sunday in the Giants' 5-0 shutout in San Francisco, he was prepared to back up off a short break in the series decider.
"There wasn't really a whole lot of talk before but I was just ready," Bumgarner said.
"I knew if something happened early then there was probably a lot better chance of me getting in there and it done and we got the bullpen into the game and I was ready after that to prepare to go in there.
"I wasn't thinking about finishing the game or how many innings I was going to go or the pitch count.
"I just wanted to get outs and we were able to do that for the most part and that is it."
Michael Morse, who drove in two Giants runs in their 3-2 game seven win, said Bumgarner was confident
"He's incredible," Morse said.
"He's incredible. He's a different human being. Yesterday, I told him, 'If you're going to go out there tomorrow, you better bring it.'
"And he said, 'Just watch me.' This guy, every start, he gets better and better. And this is what you get. What you see, is what you get."