Referee Mark Clattenburg AXED after breaking Premier League rules to see Ed Sheeran in concert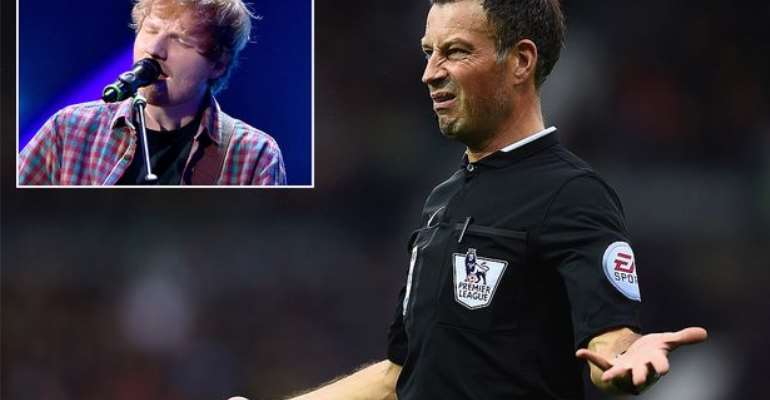 Premier League referee Mark Clattenburg will miss next weekend's round of fixtures for breaking protocol so he could watch an Ed Sheeran concert.
Clattenburg travelled in his own car to officiate the West Bromwich-Crystal Palace match  in order to get back to Newcastle in time to see the award-winning singer-songwriter perform at the Metro Radio Arena last Saturday.
Premier League regulations require the referee and his assistants to travel together to and from games for integrity and security purposes.
Clattenburg also talked to Palace manager Neil Warnock while in his car, even though the Premier League code allows officials to speak to managers after a game only when all the assistants are present or with the permission of referees' body Professional Game Match Officials.
The PGMO do not want a situation between manager and referee which might escalate to being one version of a conversation against the other.
It is understood serial referee baiter Warnock had wanted to discuss with Clattenburg two incidents during the 2-2 draw at The Hawthorns, Wilfried Zaha being denied a penalty and a challenge by Craig Dawson on Julian Speroni that led to a goal and the injured keeper being substituted.
The Premier League called it 'an internal matter' that Clattenburg had not being given a match before expected Champions League duties next week.
Clattenburg has had a controversial career as an elite referee, including serving an eight-month suspension after an investigation into his personal life and business debts. Chelsea also made a formal complaint to the FA about his alleged use of inappropriate language towards John Obi Mikel but the referee was cleared and the player disciplined.