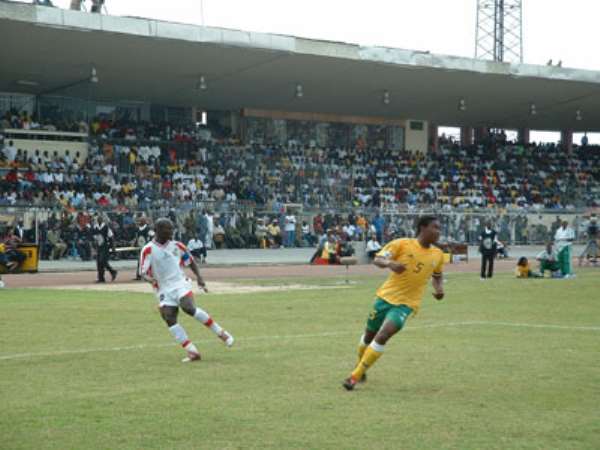 Some ten odd years since the lads from the Rainbow Nation of South Africa entered into the fray of competitive soccer it has always held its own against Ghana. Last Sunday the Black Stars served notice to South Africa that the days of playing second fiddle are over. And boy did they do it in style.
Three unanswered goals in 90 minutes of entertaining football completely dominated by the Ghanaians in their World Cup qualifying match on Sunday brought down the house and left Ghanaians serenading into the wee hours of the night.
The result which was characterized by the South African press as humiliation of that nation's flagship football team brought back the smiles on the faces of all Ghanaians and resurrected our chances of making it to our first ever World Cup, Germany 2006.
After making a disastrous outing against our neighbours to the north, Burkina Faso who beat us 1-0 in our very first match of Group B pressure was on Barreto and his players to redeem themselves and they did just that.
Udinese-based Sule Muntari set the tone for a harvest of goals when he put the Stars ahead in the 14th minute of the first half. A brace by the captain of the team put the game beyond the reach of the South Africans who were without most of their foreign legion. Ghanaians would care less should the South Africans rationalize away their loss by blaming it on the absence of Shaun Bartlett, Zuma and their other prized assets who contrived to miss Sunday's match.
That would not wash with 20 million Ghanaians who see last Sunday's victory over South Africa -our first ever victory at the senior level in about six competitive matches since 1994 as a precursor of greater things to come. I smell a renaissance. It is a victory that would be celebrated for a long time.
But before we say ahoy let us remember that more work lay ahead to be done. UNEASY IS THE HEAD THAT…. We won a very fundamental and strategic battle with our victory over South Africa last Sunday but we still have to fight the "war" of winning the sole ticket from our group in order to make it to the world cup. Our group is not really a straight contest between Ghana and South Africa as many predicted when the draw was made last year. The fact that every nation in our group be they minnows or giants have won a match and lost one in two games speaks volumes about how open our group is.
Ghana's work is cut out for us. The only way to come out tops from this group would be to win all our home matches and grab a couple of points in our away games.
We can only brighten our chances of landing our first World Cup if we do this. A lot of work remains to be done. Fundamental to this is the need to get our players adequately psyched up for the battles that lie ahead. Doing that is fifty percent of the job done. The other half of the work has to be sorted out between assembling the right complement of players and motivating them to play according to the game plan of the coach and also in the grand scheme of winning laurels for mother Ghana and themselves. It is going to be a difficult task. No doubt about that.
However it is not a task our players cannot face and surmount. Even the Gordian knot was untied. We can achieve anything if we put our minds to it. Come on boys make it happen.
While at it we also call on the Ministry of Education and Sports, the Ghana Football Association and all stakeholders to work assiduously towards the dream of taking Ghana to its first ever World Cup.