Carmelo Anthony impresses as Blake Griffin, Chris Paul star for Clippers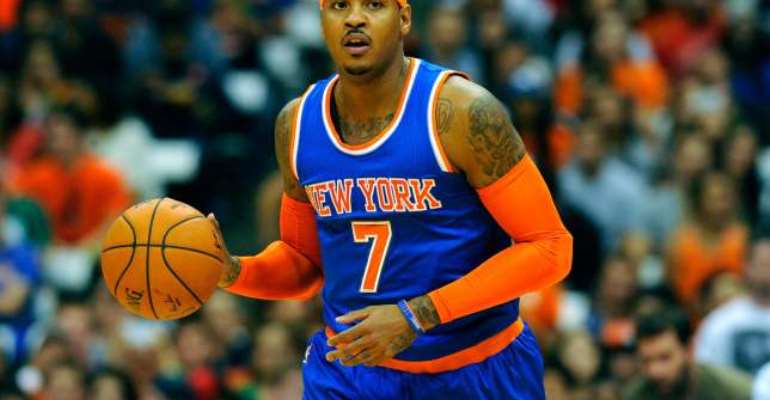 Anthony scored 30 points as the Knicks rallied from a 10-point deficit to edge the Washington Wizards 103-100 at Madison Square Garden.
His haul included a three-point play with 13.9 seconds remaining to put the Knicks ahead before Otto Porter missed a chance to force overtime.
John Wall (29 points, seven assists) and Porter (22 points) were good contributors for the Wizards.
Blake Griffin (35 points) and Chris Paul (34) led the Clippers to a 108-105 win over the Phoenix Suns.
Gerald Green missed a three-point shot on the buzzer for the Suns.
LeBron James was rested as his Cleveland Cavaliers went down 96-92 to the Memphis Grizzlies at the FedExForum.
Marc Gasol had 16 points and nine rebounds, while Quincy Pondexter scored 15 points.
The Houston Rockets rallied from behind to overcome the Orlando Magic 90-89.
Trailing by 13 with a quarter to play, the Rockets battled and claimed victory thanks to Jeff Adrien's late free-throw.
Reigning NBA champions the San Antonio Spurs saw their slow pre-season continue, losing 117-107 to the Atlanta Hawks.
Kobe Bryant sat out as the Los Angeles Lakers beat the Portland Trail Blazers 94-86.
Shabazz Muhammad had a game-high 19 points and Nikola Pekovic produced a double-double of 15 points and 13 rebounds in the Minnesota Timberwolves' 110-91 thrashing of the Milwaukee Bucks.
The Boston Celtics' pre-season came to an end with a victory, beating the Brooklyn Nets 100-86, and the Toronto Raptors beat Maccabi Haifa 92-85.