GHȼ48m Common Funds Missing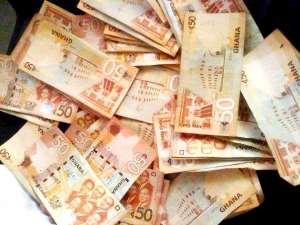 Kwaku Agyeman-Manu flanked by Samuel Sarpong, Ashanti Regional Minister and a member of PAC.  
The Public Accounts Committee (PAC) of Parliament has revealed that Metropolitan, Municipal and District Assemblies in the Ashanti and Brong-Ahafo Regions had failed to account for GH¢48.43 million of statutory funds for utilisation at their respective areas.
Chairman of PAC, Kwaku Agyeman-Manu, who made the revelation, said this was contained in an Auditor General's report on management and utilisation of District Assemblies Common Funds (DACFs) and other statutory funds for the year 2010, 2011 and 2012.
Speaking at a sitting of the committee in Kumasi yesterday, the PAC chairman indicated the frustration of the committee's members, noting that 'the assemblies continue to violate rules, procedures and legal requirement in the administration of funds.'
According to him, the Auditor General's Department had established a pattern with which the assemblies mismanage public funds for development, and pointed to deficiencies in using internal controls to monitor these activities.
He called on managers at the various assemblies to resolve to do better and develop the culture of applying funds to the intended purposes.
Sanction
Alhaji Ibrahim Dey Abubakari, Ranking Member of PAC, lamented a litany of violations of the financial regulations by the assemblies, and hinted of the committee's resolve to recommend sanctions and punishment for officers flouting regulations with impunity.
'We've realized that preaching alone does not solve the problem and it is our resolve to push for punishment against recalcitrant officers of the assemblies,' he asserted.
This, in his view, would ensure that improper records keeping, omissions, violation of financial regulations and lack of documentation were not repeated in future.
'It will be a complete surcharge against any assembly's officer who fails to provide documentation for the utilisation and management of funds,' Alhaji Abubakari, together with the chairman of the committee, sternly warned.
Other members of PAC took issues with non-retirement of imprests granted to some Metropolitan/Municipal/District Chief Executives by the Finance Officers.
GH ¢38,000 On Funeral
The committee was not happy that the Wenchi Municipal Assembly blew as much as GH¢38,000 of DACF on funerals, donations and honorariums instead of Internally Generated Fund (IGF) and charged the MCE, Municipal Coordinating Director and Municipal Finance Officer to pay back the money.
Concerns were also raised about the failure of the assembly officers to keep proper records containing details of receipts covering payments.
 
From Ernest Kofi Adu, Kumasi
( [email protected] )