Oscar Pistorius' family criticise prosecution in Reeva Steenkamp case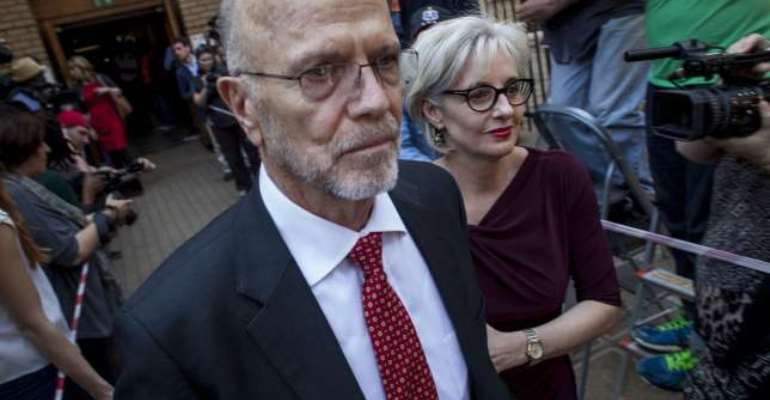 Pistorius was originally charged with the "wilful and intentional murder" of Ms Steenkamp after shooting her dead in his Pretoria home on February 14, 2013.
The former Paralympic champion denied the charge, claiming he thought his then-girlfriend was an intruder.
After being found not guilty of murder, Pistorius was convicted of a lesser charge of culpable homicide and on Tuesday, Judge Thokozile Masipa handed down a sentence of a maximum five years in prison.
Following the announcement, Pistorius' uncle, Arnold, spoke to reporters and took a swipe at the prosecution - led by Gerrie Nel - for the way they had pursued the original charge.
"The case that was set down for three weeks originally has been dragged out for seven months - in fact, for 20 months," he said.
"In the process, [the state] decided to inflict as much collateral damage as they could, by keeping the cloud of premeditated murder as long as possible.
"The truth became totally irrelevant to the state's case to make premeditated murder stick."
However, he also said that the family were satisfied with Judge Masipa's decision.
"We accept the judgement. Oscar will embrace this opportunity to pay back to society," he said.
"Today a new season starts for us as a family... not just the Pistorius family alone, but the Steenkamp family. It has been a harrowing 20 months. We are all emotionally drained and exhausted.
"I appeal to all of you as the media to accept the ruling of the court. After 20 months of relentless public trial, I would ask you to let us move forward, and give us some degree of dignity and privacy as we do so.
"I want to say something as an uncle. I hope Oscar will start his own healing process as we walk down the path of restoration. As a family we are ready to support and guide Oscar as he serves his sentence."