31-minute sparring round: Mayweather sued by former heavyweight champion Hasim Rahman's sons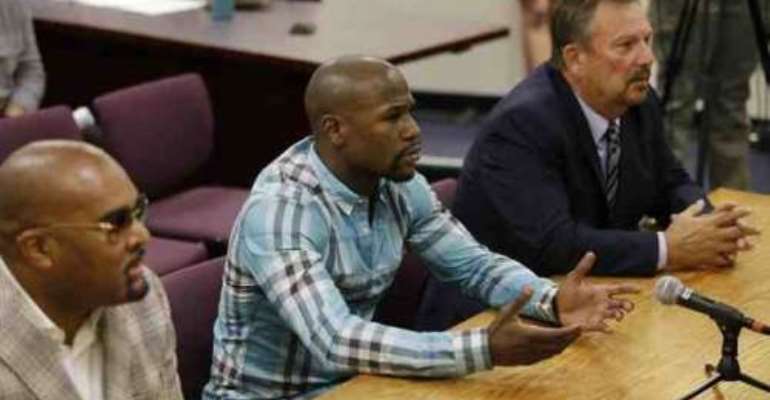 The sons of former heavyweight champion Hasim Rahman have sued Floyd Mayweather Jr., Mayweather Promotions and Showtime in Clark County District Court regarding sparring sessions at Mayweather's gym that were a part of the "All Access" series.
Hasim Rahman Jr., 23, and Sharif Rahman, 18, sued for battery, tortious assault, false imprisonment, negligent hiring, training, supervision and retention and unjust enrichment. Neither Rahman has fought professionally, though Rahman Jr. is scheduled to turn professional on Nov. 13.
The Rahman brothers both sparred British boxer Donovan Cameron at the Mayweather Boxing Club in Las Vegas during Episode 2 of Showtime's "All Access" series that was broadcast on Sept. 6 and designed to promote Mayweather's rematch on Sept. 13 against Marcos Maidana.
Mayweather referred to the gym as the "dog house" on the episode.
"Guys fight to the death," a grinning Mayweather says during the Sept. 6 episode. "It's not right, but it's dog house rules."
Floyd Mayweather told the Nevada Athletic Commission there were breaks during the 31-minute round
But Mayweather testified in front of the Nevada Athletic Commission on Sept. 23 that much of what was shown during the "All Access" series was false, made up to help boost pay-per-view sales.
The commission subpoenaed Mayweather to appear after Showtime aired footage of what was alleged to be a continuous 31-minute round. Mayweather told the commission there were numerous breaks in the 31-minute round, though he was not put under oath facing penalty of perjury that day.
The Rahmans' suit, though, disputes that and alleges there was indeed a 31-minute sparring session. There are numerous video interviews with Rahman Jr. on YouTube and other Internet sites in which Rahman Jr. insists he sparred 31 minutes continuously against Cameron.
The suit also accuses the Mayweather Boxing Club of not having the proper license to allow amateurs to spar.
"Defendant Mayweather knowingly misrepresented facts while testifying before the Nevada State Athletic Commission," the suit reads. "Defendant Mayweather falsely testified that Hasim's 31-minute fight did not happen as aired, and that the fighters took several breaks. Defendant Mayweather also testified to the effect that the 'All Access' program is heavily edited to show footage the way he and Showtime want."
Vicki Greco, the Rahmans' attorney, declined to discuss the suit with Yahoo Sports.
"We're in the middle of a litigation and at this point, we have no comment," she said. "That's not to say that at some point in the future that that may not change, but now, we have no comment."
Shane Emerick, Mayweather's attorney, didn't return a telephone message seeking comment. Showtime spokesman Chris DeBlasio said the company has not seen the lawsuit and declined comment.
Francisco Aguilar, the chairman of the Nevada commission, said he could not comment on pending litigation.
The complaint alleges Sharif Rahman was injured during the sparring and had to seek medical care. In the suit, he said he was forced to spar rounds of five, six and seven minutes in length.
The suit alleges a bystander told Sharif to leave the ring because he was no longer able to effectively compete with Cameron. However, it goes on to say that Mayweather himself would not allow Sharif Rahman to quit. The suit charges Mayweather personally ordered Cameron to go after Sharif Rahman and continue the fight if he left the ring.
Mayweather "responded by telling Mr. Cameron and others that if Sharif left the ring to beat his ass outside the ring," the suit claims. "Sharif feared for his safety and was forced to continue to fight."
As a result, the lawsuit alleges that Rahman was injured. It claims he needs ongoing medical treatment to help him heal.
The suit further alleges that Hasim Rahman Jr. arrived and demanded to fight Cameron in essence to avenge the beating his younger brother took. The suit claims Mayweather said the Rahman Jr.-Cameron sparring session would be "a fight to the death," and that Mayweather bet large sums of money on Cameron to win.
The Rahmans also claim Showtime did not get a release from them and they did not consent to having their names and likenesses used in the program.
Credit: Yahoo Sports