New sports bill to be laid before parliament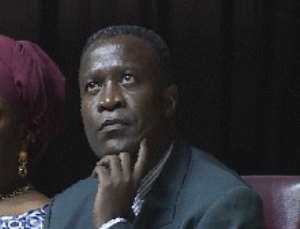 Kumasi, June 22, GNA - The Ministry of Education, Youth and Sports has fashioned out a new Bill that will soon be laid before Parliament to replace the old Sports Law of 1976 (SMCD 54). The Bill when passed into law will create more avenues for all stakeholders to invest and participate in sports development, safeguard opportunities for sports and recreation on a continuing basis and enhance the running of sports and business.
Mr Kwadwo Baah-Wiredu, Minister of Education, Youth and Sports announced this at the opening of the week-long National Sports Festival on the theme: "Sports for Health, Unity and Peace" at the Sports Stadium in Kumasi on Monday.
The 1,862 sportsmen and women will be competing for honours in Athletics, Basketball, Boxing, Handball, Hockey, Netball, Soccer (Under-15), Soccer (Women), Table Tennis and Volleyball.
The Minister was optimistic that when the new law is passed, the National Sports Council (NSC) will be transformed to give it the legal authority to control and regulate the sports sector and its development. Mr Baah-Wiredu said the government recognises the significant and positive role sports plays in transforming the lives of the people especially the youth that ensure the changing of their socio-economic, psychological and moral attitudes for the better.
"Since I assumed office, my Ministry has been trying to redirect its focus from participation to sports and its sustainability especially in playing fields".
Mr Sampson Kwaku Boafo, Ashanti Regional Minister, noted that sports has become very crucial in the development of many nations and for this reason, the government is taking appropriate measures to motivate sportsmen through the provision of modern state of sports infrastructure and the payment of enticing bonuses.
He told the participants that he hoped that, "As the cream in the various disciplines in your Regions, you will be spurred on by the shinning examples of the past heroes."
Competing teams for the Festival are from the 10 Regions, the Police Service, Fire Service, Prisons Service, Customs, Excise and Preventive Service (CEPS), the Armed Forces, Ghana Immigration Service and the Universities.
In the opening Under-15 soccer match between Ashanti and Brong-Ahafo, Ashanti lost 2-4 to their opponents. Other scores in the discipline were, Greater-Accra lost 1 - 3 to the Upper West Region, Northern Region whacked Upper East Region 3 - 0, while Eastern Region whitewashed Western Region 10 - 1.
In the Ladies soccer events, Eastern Region beat Prisons 1 - 0, Ashanti Region spanked Upper West Region 8 - 0, Northern Region lost to the Western Region 0 - 3 and the Central Region pip Immigration Service 1 - 0.
In Athletics, Hudu Iddrisu of Prison Services came first in the men's 800 metres race in a time of one minute, 53.8 seconds and was followed by Emmanuel Arhin of Ghana Universities with a time of one minute 54.8 seconds with Clarence Kumah of Eastern Region placing third in a time of one minute 55.3 seconds.
Adwoa Dansowaa of Central Region won the women's 800 metre race in a time of two minutes 16.4 seconds, Charity Boahemaa of Ashanti Region came second in a time of two minutes 17.5 seconds while Faustina Yankson of Central Region placed third in a time of two minutes 17.8 seconds. In the women's handball, Fire Service beat Police Service 6-5, Armed Forces also beat Volta 19-4 with Prisons Service whipping Greater Accra 23-4.
In the men's handball game, Fire Service narrowly lost 15-16 to the Police Service while Armed Forces beat Volta Region 24-11 and Prisons Service beat Greater Accra 23-14.
The Hockey events (women) saw Ashanti Region losing 1 - 3 to the Police Service, Fire Service making mince meat of Greater Accra Region with a 6 - 0 whacking, Eastern had a walker over CEPS while Prisons Service also whacked Ghana Universities 5-0. 22 June 04