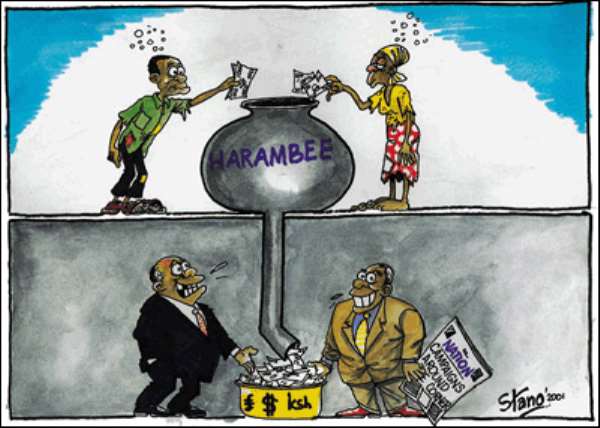 Justice Emile Francis Short
Former Commissioner of the Commission on Human Right and Administrative Justice (CHRAJ), Justice Emile Francis Short says Ghana's public institutions are designed in a manner that facilitates corruption. 
According to the former CHRAJ Boss, until the National Anti-corruption Plan is implemented, the fight against the canker will be impossible as there has not been effective ways of punishing and retrieving lost monies back to the state coffers.
Speaking on  Oman FM's  Morning Show, Justice Emile Short insisted that until the 10-year National Anti-corruption Action Plan (NACAP) is in full force to sensitize the public on the evil and causes of corruption, the country will be deprived of all social services needed to make life better.
Highlighting some of the Anti-corruption Plans, Justice Emile Short said there should be effective investigations that will lead to prosecution of persons found culpable in the act, thus there is not enough accountability in the public system as those involved in corruption are not arrested and prosecuted.
He stressed that Ghanaians must see the amount of money the country is losing through corruption as against developmental projects that amount could have been used, believing the knowledge will compel people to resist corruption and help in the fight.
He however said that assets declaration regime is not effective in public office holders as thorough investigations don't go in to check the properties to ascertain their actual assets, making corruption difficult to control.
'Now corruption has become normal in Ghana and people must understand that corruption is depriving us of social services, an important thing that we need; schools, medical facilities and infrastructure…we don't see those involved in corruption arrested and prosecuted; there is not enough accountability in the system,our institutions have been designed in such a way that it facilitates corruption. If you go to license institution, you cannot easily have access to what you need. We need task force to investigation the institutions to streamline their activities and block all loopholes,' he said.
He therefore called on government to show commitment towards the implementation of the Anti-corruption Action Plan as it takes such a step to start the fight against corruption; adding though that the implementation requires money because 'you have to spend money to get money'.
Credit: Daniel Adu Darko | Peacefmonline.com