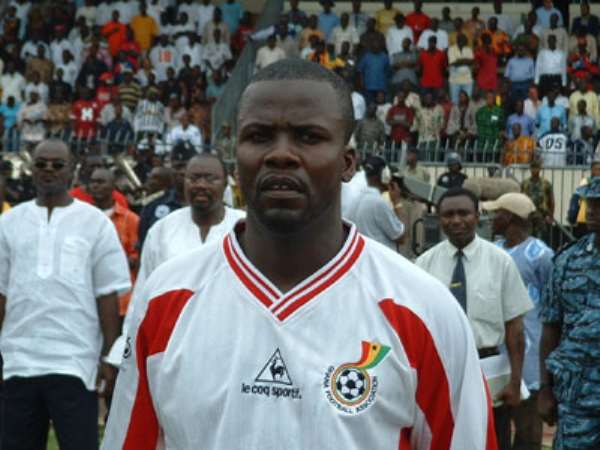 Bayern Munich defender, Samuel Osei Kuffour has finally relished his dream revenge after Ghana spanked the Bafana Bafana of South Africa 3-0 in a world cup qualifier on Sunday.
Ghana broke the jinx surrounding years of failure to the Bafana Bafana side with a humiliating 3-0 victory at the Kumasi Sports Stadium.
"Everybody is happy, I am so glad myself to have a revenge from CAN 2000. I was shedding tears here (Kumasi) after that game.
"I prayed a lot today that God would give me strength not to cry even at the end of the day. I am happy", he told JoySports.
Kuffour, one of the two members of the present Black Stars squad who featured in the last meet between both nations when a Siyabonga Nomvete header ditched Ghana out of the 2000 African Nations Cup.
Ghana playing before a large home crowd dominated play from the onset of proceedings with the South African's rarely threatening Black Stars goalkeeper, Sammy Adjei.
"I wasn't surprised with our play because everybody wanted to do the best for himself.
"During training, everybody did his best, I think it is most important for the coach, the playing body and for the whole Ghana as well", Kuffour stated.
Ghana would now be playing its third world cup qualifying game against the Cranes of Uganda who bundled the Black Stars out of the 2004 African Nations Cup in Kampala on July 3.
But Kuffour is very optimistic of Ghana's chances as he hopes the victory party is cut short.
"We don't need to just pamper ourselves that we the first in our group, no, this is not the case because everybody has three points now.
"This is the time to do the best thing for ourselves, go to Uganda and have a great game as we did today (Sunday). It is very important.
"The coach knows better than I do, he's the main man in the team, we need to play a great game against Uganda and the whole body (team) need to compromise again as we did today (Sunday)", Kuffour says.