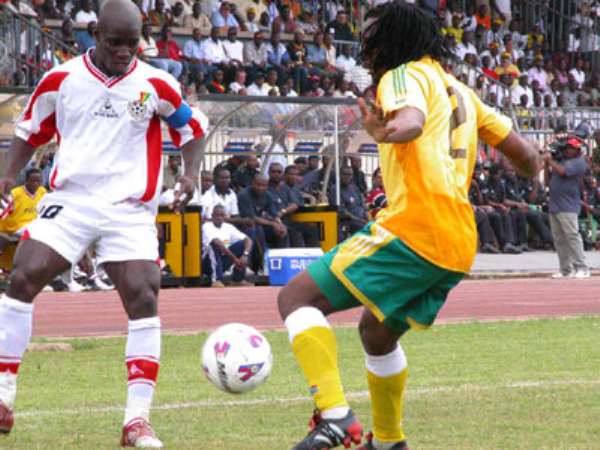 No defence, less of a midfield and very little up front... that about sums up South Africa's pathetic attempt at playing a soccer match against Ghana yesterday.
Being an African Group Two qualifier for the 2006 World Cup finals made it that more important. And considering only the group winners will make it to Germany in two years' time the 3-0 thrashing in Kumasi must have shaken new coach Stuart Baxter.
If not, the Englishman best pack his bags.
And after yesterday's performance, that saw the slick Ghanaians beat SA for the first time, most of the men in Bafana jerseys might just as well pack their international bags as well.
But before they do, the whole Bafana defence of Nasief Morris, Aaron Mokoena, Mark Fish and Jacob Lekgetho should line up and apologise to Moeneeb Josephs.
They ought to say sorry to the 24-year-old goalkeeper for allowing the Ghanaians to raid at will and offering Josephs little protection and even less cover.
On yesterday's showing Fish, who by all reports is solid at the back for Charlton Athletic in the English Premier League, needs to be dropped while left-back Lekgetho should be sent to Siberia.
Lekgetho may get away with hacking opponents down while playing for Lokomotiv Moscow, and if that's how they play it in Russia, the SA Football Association should immediately withdraw all this country's footballers currently based in Russia.
It was expected the introduction of Steven Pienaar would add quality to Bafana's midfield, but the Ajax Amsterdam man had a game to forget. In fact not getting out of bed yesterday morning would have been the best option for Pienaar.
And while on options, Baxter chose all the wrong ones.
His decision to travel to Kumasi - the journey took 10 hours - on Saturday backfired.
At the Johannesburg training camp Baxter said George Koumantarakis would be used as a targetman. With a bumpy pitch where pushing the ball around would be difficult, that seemed an excellent idea. But it's a pity nobody else was aware of the ploy as Big George battled to get the ball and when he did knock it down a Ghanaian was always first to it.
Bafana captain Mbulelo Mabizela spent all afternoon chasing the game and never caught up, while Benson Mhlongo is a good midfielder in the PSL but is far from international standard.
It is boggling that Baxter kept Kaizer Chiefs' Stanton Fredericks on the bench in place of Wits man Mhlongo. It used to be said that if you play for Chiefs your Bafana chances rocket... that theory was shot down in flames yesterday.
Yesterday Delron Buckley won his 50th cap and if he doesn't soon improve he will not add to that.
It is all very well Baxter going for overseas-based players as most European leagues are of a high standard. But Buckley played just four games for his Bundesliga club all of last season, and on yesterday's outing we all saw why.
Siyabonga Nomvete is another who has failed to cut it overseas. The former Chiefs striker has failed to score since moving to Serie B club Salernitana.
Baxter, however, has two things in his favour... it can't get any worse than yesterday and all six teams in the group are on three points from two games.