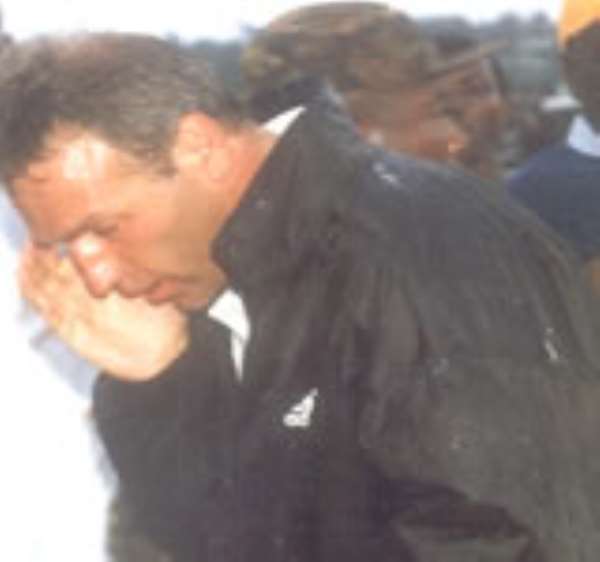 Accra, June 18, GNA - The management of Strategic Outsourcing Solutions (SOS Networx) has denied media reports that Mr Ernst Johannes Middendorp head coach of Accra Hearts of Oak has quit the club.
According to the management of the company who hired the services of the coach for the club, they are aware of the twist being given to a media interview the coach granted to the media prior to his departure.
Coach Middendorp left Accra last Monday for Germany for holidays and there were media speculations that the coach has quit his job as a result of managerial interference and has joined a second division club in Germany.
A Press Statement signed by Mr Kobina Andoh Amoakwa, Media Director of the company, stated that the coach is contracted to SOS Networx adding "to the best of our knowledge the coach has not indicated any intention to abrogate the contract".
The company explained that the trip of the coach is to source for strategic investments for cash-strapped Hearts of Oak on behalf of SOS Networx and has been in constant touch with Mr Herbert Mensah, Chief Executive of SOS on how best to assist Hearts to become a viable business entity.
The statement said "it is on record that the coach has expressed disquiet about procedural matters concerning his role as the technical director and that such matters have been discussed at inter company level without any acrimony".
It however denied the fact that the coach is on a collision course with the club and does not intend to return.
The statement added that by virtue of the unique contractual agreement the SOS Networx has with Accra Hearts of Oak, Ernst Middendorp is contracted to SOS Networx and not the opposite.
It said that Hearts was responsible for the purchase of his return ticket and assured the media, supporters of the club and general public that the coach will return to take over his job.
The company therefore assured the media, supporters of the club and the general public that Mr Middendorp will return well in advance of the next round of the premier league matches and other club assignments.