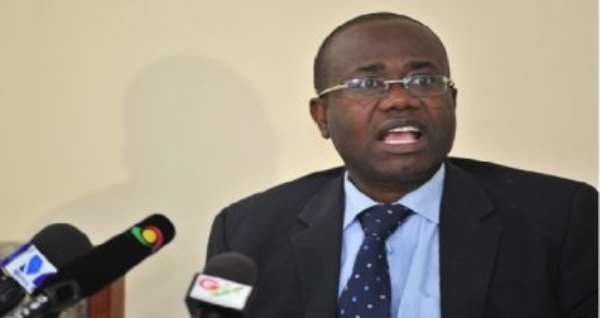 The Ghana FA boss Kwesi Nyantakyi is expected to draw a huge crowd on Wednesday morning when he continues with his turn at the Presidential Commission of Inquiry looking into happenings at the 2014 World Cup following his impressive showing on the first day.
Hundreds of people from various sections of the football community have besieged the premises of the Commission to watch Nyantakyi in fine form on his presentation over the GFA's role.
His revelation on the first day revealed how the GFA has funded government by paying $12m in taking care of the national teams which have been deprived of public funding shocked people.
Previous thoughts of the GFA receiving was firmly put to rest insisting the federation does not receive public funds.
With the sports conference on financing taking some of the attention on the first day of Nyantakyi's appearance the number is expected to grow even though the commission struggled to hold the number of people in his appearance on Tuesday.
The GFA capo is appearing before the Dzamefe Commission to respond to issues surrounding Ghana's participation at the Brazil 2014 World Cup.
The Accra Sports Stadium, premises of the Commission hearings, was virtually been turned into a rally for football administrators, supporters, old players, coaches, sports doctors, referees and various players in the football industry who have all appeared to offer backing to the GFA boss.
Those who have turned up so far include the 10 Regional chairpersons of the GFA, almost all Executive Committee members led by the Vice President of the Association, Fred Crentsil, members of the various GFA Committees and club administrators and representatives who constitute the GFA Congress, the highest decision making body of the Association and Ghalca members.
Notable football faces spotted at the hearing are Felix Ansong, Emmanuel Gyimah, Owoahene Acheampong, Ashford Tettey and Moses Armah Parker while the GFA boss was backed by the Director of Communications Ibrahim Sannie Daara and efficient lawyer Thaddeus Sory.
Aside these key officials of the Football Association, notable coaches like Fred Osam Duodu and members of various Supporter Union groups, many former players of the national teams and various other interested persons in football turned up and filled the auditorium where the hearing is happening.
Despite some public opposition to the current GFA Administration, there are clear indications that the GFA boss still enjoys massive support within the corridors of football, especially at the GFA Congress which ultimately is responsible for electing the President of the Association and other Executive Committee Members.