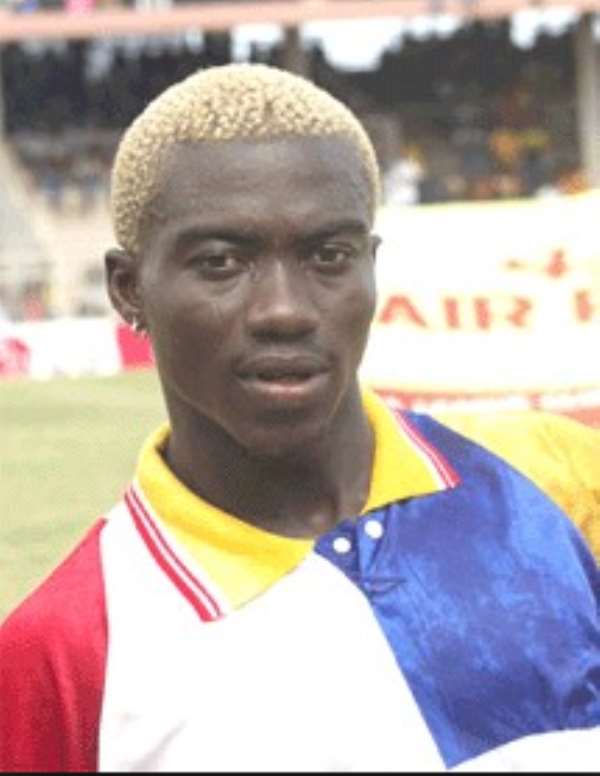 Bernard Dong Bortey
Ex-Hearts midfielder Bernard Dong Bortey has issued his latest 'come and get me' plea to Ghana champions Kumasi Asante Kotoko.
Bortey, 32, has returned to his native country after ending a six-month spell with Equatorial Guinean side Panthers FC.
The former Aduana Stars man has not hidden his desire to play for the Porcupine Warriors before retiring from the game.
He has constantly claimed his career will not be complete without featuring for a side he rejected 10 years ago.
He has issued another batch of apology geared towards worming his way into the hearts of Kotoko fans, 10 years after 'hurting' them.
'I will like to take this opportunity to first apologize for what happened between myself and Kotoko in years past,' he told Kumasi-based Kessben FM.
'Although I felt I did no wrong at the time, I believe the incident has really had a toll on me and has blocked my chance of getting to play for the club. I am their son; I want to play and take that pain I caused them away.
'I have the talent and I know that if you train well, you will be in form. I have returned after my six-month contract in Equatorial Guinea and I believe if I'm given the opportunity to train for about a month, everybody will see the Dong Bortey they know.
'I'm not perfect; if they ask me to come and justify myself for them to assess my form, I will gladly take the opportunity for the coach to observe me.'
Bortey ditched Kotoko to sign for Hearts under acrimonious circumstances during the era of celebrated football administrator Herbert Mensah.